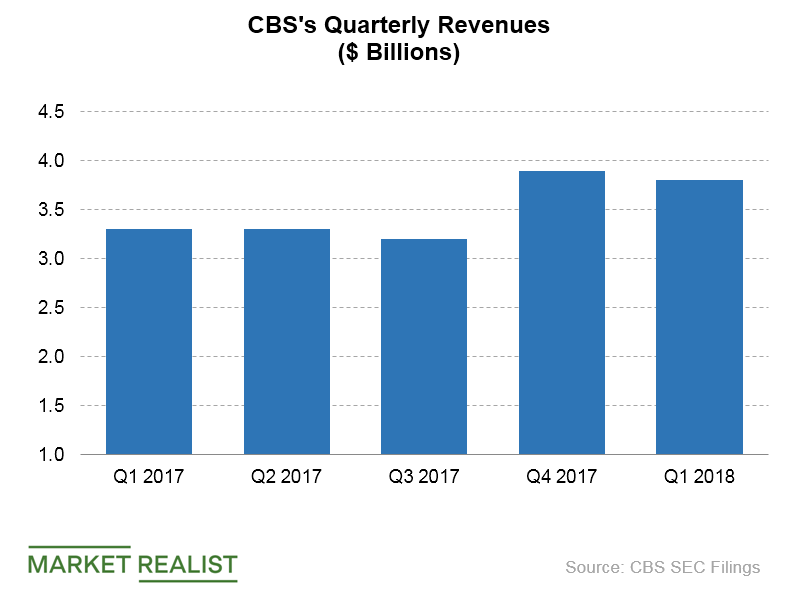 How Wall Street Views CBS's Conflict with the Redstone Family
By Ruchi Gupta

May. 26 2018, Updated 2:56 a.m. ET
CBS passed symbolic vote to cut Redstone family's influence
CBS (CBS) rejects the idea of being forced into a merger with Viacom (VIA) (VIAB). To demonstrate its distaste for the idea, CBS's board of directors passed a symbolic vote to cut the voting power of the Redstone family. The vote was symbolic because the Redstone family had amended the company's bylaws to require 90% of board members to approve a resolution to dilute its voting power. Since 11 of the 14 board members supported the proposal to cut the family's influence, the vote fell short of the threshold.
Article continues below advertisement
Through an entity known as National Amusement, the Redstone family wields voting control over both CBS and Viacom. Shari Redstone, who oversees National Amusement, has sought to unite CBS and Viacom since 2016. But the two companies disagree on key aspects of the terms of a merger, leading CBS to try to temper the influence of the Redstones to avoid being forced into a marriage with Viacom under terms it may not like.
CBS viewed as fighting for minority shareholders
Some experts have recently weighed in on the CBS-Viacom-Redstone-family drama. Analyst Barton Crockett of Wall Street firm B. Riley FBR told CNBC that he believes CBS is fighting to protect the interest of its shareholders with minority voting control. Brian Quinn, a professor at Boston College Law School, told Reuters that CBS is sending the signal that it has the best interest of every shareholder in mind, not just the interest of the Redstone family.
Verizon wanted to buy CBS
Verizon (VZ) is said to have shown interest in buying CBS, but the Redstone family didn't like it. Perhaps Verizon might get interested in CBS again if the company eases the influence of the Redstones. Verizon's rival AT&T (T) is seeking to acquire media giant Time Warner (TWX), so Verizon could be looking for a big media deal of its own.
CBS's first-quarter revenue rose 13% year-over-year to $3.8 billion.