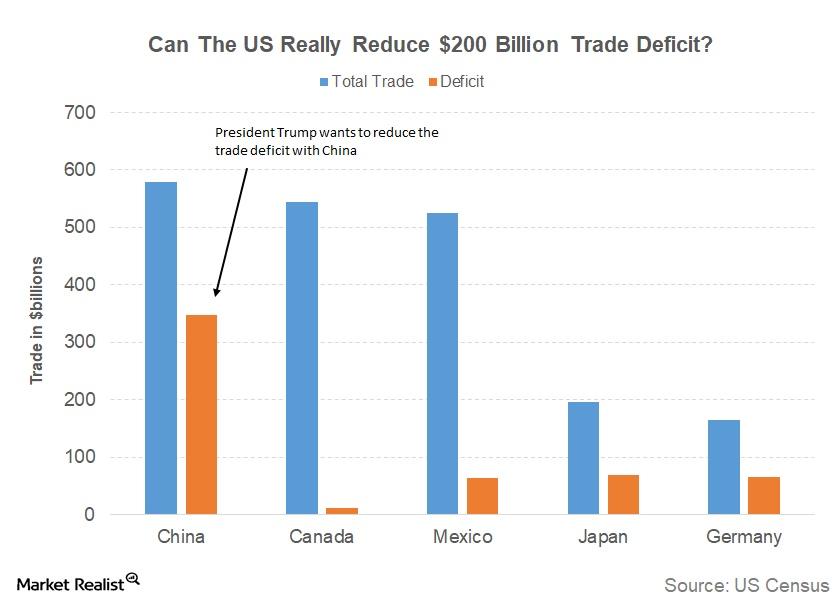 Can China Reduce Its Trade Deficit with the US?
By Ricky Cove

May. 23 2018, Published 10:13 a.m. ET
Is it even possible?
In discussing the steps that China (FXI) has agreed to take to help reduce its trade deficit with the United States, Steve Mnuchin, the US Treasury secretary, said on Fox News Sunday that there was "a very good framework agreement."
There are a lot of questions that need to be answered about this agreement. Will China suddenly increase the imports of certain products? If it does, will there be sufficient demand for these products in China, or will China cut the imports of such products from its other trading partners? Let's explore.
Article continues below advertisement
China gets a better deal
The answer to the first question seems obvious: demand for those imports cannot increase by such a large sum ($200 billion) in a year, so the second question answers itself. China (MCHI) is likely to cut its imports from other countries. This means that the overall amount of trade remains the same, which in economic terms isn't a good outcome in the long run. China (GXC), on the other hand, gets a better deal, as it avoids the $150 billion in import tariffs that were thrown at it by the Trump administration.
Globalization and tariffs are on opposite poles
Since the advent of globalization, countries have benefited from cross-border trade. US consumers get a better deal on imported goods, and the United States enjoys a surplus through its service exports and foreign capital investment. Fair play in international trade is a subjective topic, and deficits can't be addressed by cherry-picking sectors to boost bilateral trade.
In the long run, tariffs have a negative impact on the global economy instead of improving a single country's economic output. In the next article, we'll explain why a reduced trade deficit with China could hurt US (IVV) and global (SCZ) markets.