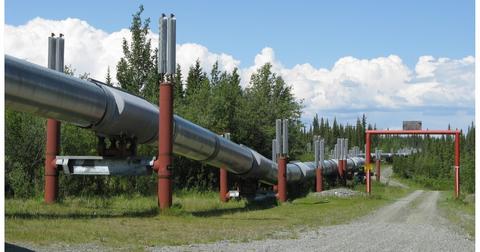 Alberta's Oil Sands: Key Challenges and Opportunities
By Rekha Khandelwal, CFA

May. 7 2018, Published 2:15 p.m. ET
Alberta's oil sands
The Western Canada province of Alberta has the third-largest crude oil reserves in the world. Most of the reserves are primarily bitumen-based (or oil sands). Alberta has proven reserves of more than 170.0 billion barrels of bitumen.
The Alberta Energy Regulator expects bitumen production to rise from its current level of 2.1 MMbpd (million barrels per day) to 4.1 MMbpd by 2023. However, infrastructure constraints to move oil out of Alberta remain a key challenge.
The need for pipeline infrastructure to transport oil from Alberta is widely acknowledged. Transportation bottlenecks, including a temporary shutdown of TransCanada's Keystone pipeline, significantly widened the WTI–WCS (West Texas Intermediate–Western Canadian Select) spread in December 2017.
While the spread is returning to normal, and increase in production is expected to impact WCS prices and widen the spread again. Lower WCS prices in relation to WTI prices have hurt Canada's energy sector considerably.
Article continues below advertisement
Key projects
The map above shows the planned and currently operating projects linking Alberta to various markets. Kinder Morgan's (KMI) Trans Mountain expansion, Enbridge's (ENB) Line 3 Replacement, and TransCanada's Keystone XL project are among the crucial—and controversial—pipeline projects designed to transport oil from Alberta.
Enbridge's Line 3 Replacement project connects Hardisty, Alberta, to Superior, Wisconsin. TransCanada's Keystone XL is expected to transport oil from Hardisty to Steele City, Nebraska. Kinder Morgan's Trans Mountain Expansion pipeline is expected to run from Edmonton, Alberta, to Burnaby, British Columbia.
In this series, we'll review the three projects, their current status, and how they may move ahead in the future. Let's begin with Enbridge's Line 3 Replacement project.