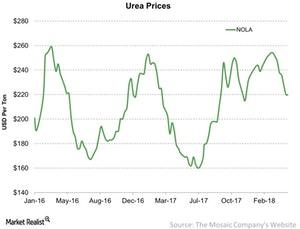 Urea Prices in NOLA and Brazil: Weakness Last Week
By Adam Jones

Apr. 24 2018, Updated 12:35 p.m. ET
Urea
Last week, which ended on April 20, urea prices were broadly flat to negative at the two locations we'll discuss below. Last week's trend comes as no surprise when we look at the recent weekly trends in urea prices.
Article continues below advertisement
Weekly movements
Granular urea prices reached a peak of $230 per metric ton toward the end of February and the beginning of March at NOLA (New Orleans) in the United States. However, prices for granular urea at that location moved sideways week-over-week to $200 per metric ton, which is close to the level in December 2017.
While the weakness in momentum at NOLA continues to put pressure on nitrogen producers (XLB) CF Industries (CF), Nutrien (NTR), and CVR Partners (UAN), urea prices in Brazil didn't help, either.
In Brazil, following last week's sideways move, granular urea prices fell 2.8% week-over-week to $244 per metric ton, from $251 per metric ton for the week ended April 20.
Year-over-year, urea prices at each of the above locations have stayed above the levels in the corresponding week in 2017. In NOLA, granular urea prices have risen 23% year-over-year. In Brazil, urea prices have risen 7% year-over-year.