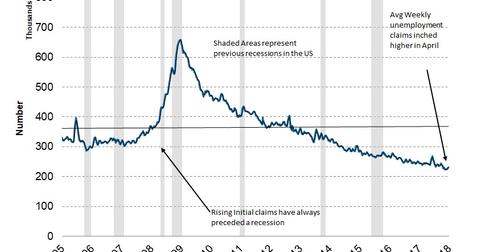 Lower Weekly Jobless Claims: A Positive Outlook for US Economy
By Ricky Cove

Updated
Average weekly claims and the economy
The Conference Board uses the average weekly unemployment claims as a constituent of its Leading Economic Index (or LEI). The FOMC's monetary policy decisions are partly based on the health of the US employment market. A healthy level of employment in the economy is a positive factor for its steady growth. 
A larger employed population leads to higher disposable incomes and higher demand for goods, which is a positive sign for the economy. The LEI uses the average weekly initial claims as a constituent in its economic model, rather than the popular non-farm payrolls. Weekly claims, when adjusted for seasonality, provide a more accurate account of the underlying economic conditions. The average weekly unemployment claims carry a weight of 3.0% on the LEI.
Article continues below advertisement
March average weekly claims increase by 4,000 claims
Weekly unemployment claims in March increased to 228,500 from the revised February reading of 224,900 claims. This is a minor decline from a decade-low reading seen in February and shouldn't be viewed as an increase in unemployment. 
The latest employment reported from ADP indicated that midsize businesses (IJH) and the manufacturing (XLI) sector performed well in March. The jobs growth in midsize companies (VO) was the best since 4Q14, and the manufacturing sector (IYJ) recorded the strongest increase in more than three years.
Implication for the markets
The strengthening employment market has been encouraging and, at times, concerning about the markets. Investor concerns about the employment market getting too hot were seen after the February jobs report indicated a strong growth of worker wages. 
Markets were sold off with the fear that the Fed would be forced to increase rates sooner than expected once higher wages translate into higher inflation (TIP). Recent FOMC meeting minutes indicated that the employment market could continue to strengthen. 
In the next part of this series, we'll examine the stellar growth in new orders for the manufacturing sector.