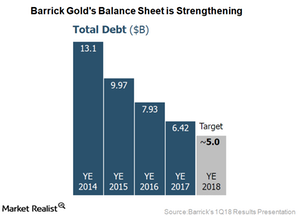 Barrick Gold Won't Sell More Assets to Reduce Debt
By Anuradha Garg

Dec. 4 2020, Updated 10:53 a.m. ET
ABX's financial leverage
Investors have been punishing Barrick Gold (ABX) and other gold miners for a long time due to their high debt, especially when precious metal prices (GLD) (SLV) were in a downslide. You might recall that Barrick, Newmont Mining (NEM), and Kinross Gold (KGC) invested heavily at the peak of the cycle. Most of those assets were subsequently written off due to poor economics, infrastructure issues, and weaker precious metal prices.
Barrick Gold has been focusing on reducing debt. Maintaining a strong balance sheet is now its top priority.
Article continues below advertisement
Strengthening balance sheet
Barrick Gold has reduced its debt by more than 50% in the last three years, from $13.4 billion at the end of 2014 to $6.4 billion at the end of 2017. It's aiming to reduce its debt from the current $6.4 billion to $5 billion at the end of 2018. It plans to achieve this reduction through cash flow from operations and cash on hand.
In 1Q18, Standard and Poor's and Moody's upgraded Barrick's credit rating, citing improvements in free cash flow generation and liquidity. It was supported by the company's low-cost portfolio and favorable geopolitical risk profile.
No more asset sales for debt repayment
The company has made it clear that having strengthened its balance sheet materially, it doesn't intend to sell any further assets to pay its debts. The proceeds, if any, from asset sales will be reinvested in the business to enhance the company's project pipeline or returned to shareholders.
Maturity profile remains comfortable
At the end of 1Q18, Barrick Gold had a cash balance of ~$2.4 billion. It also had a $4 billion credit facility, which remains fully undrawn. It also has less than $100 million in debt due before 2020. More than 75% of its outstanding debt doesn't mature until 2032, which gives the company ample flexibility to advance its project pipeline without worrying about gold price (GLD) volatility.