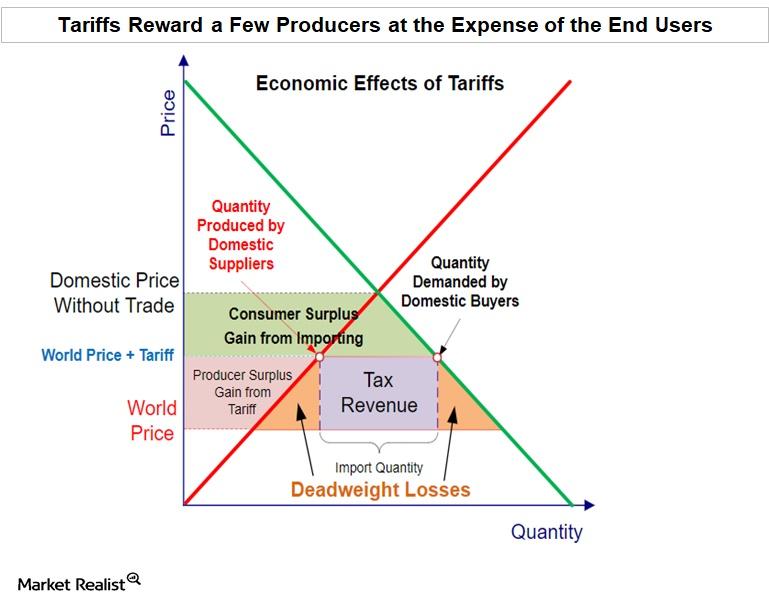 Why Economist Argue That Tariffs Are Bad for the Economy
By Ricky Cove

Mar. 8 2018, Updated 12:43 p.m. ET
Tariffs reduce market efficiency
One of the key reasons for tariffs is to protect domestic industries, jobs, and consumption. The recently proposed import tariffs on steel and aluminum imports by US President Donald Trump are an effort to protect the interests of US manufacturers, who are struggling to compete with international suppliers of steel and aluminum. 
This effort, however, comes at a cost. Tariffs inflate costs for consumers and protect inefficient domestic companies from global competition. Consumers could be forced to purchase expensive steel from US producers to avoid a 25% tariff, but domestically produced steel could be more expensive than global steel. For instance, a car manufacturer (CARZ) in the United States would pay more for steel (SLX) and aluminum than a manufacturer in the European Union or Canada (EWC), which would make US-manufactured cars more expensive to produce.
Article continues below advertisement
Economic theory on tariffs
In economic terms, tariffs create a deadweight loss, as we can see indicated in the picture above. A deadweight loss in an economy is the cost to the society created by inefficiencies in the allocation of resources. 
In the current scenario, tariffs on steel and aluminum (IYM) imports create inefficiencies in the industries as they're shielded from global competition. The prices of goods increase with tariffs because supply is limited, resulting in higher inflation (TIP). Companies that are protected have no incentive to improve efficiency if they continue to reap the excess revenue resulting from higher costs.
Risks of a trade war
There is always the danger of retaliation from trading partners in response to tariffs. Such actions are likely to have a negative multiplier effect as many more countries start imposing tariffs, resulting in a global trade war. Trade wars among nations lead to a decrease in global trade, resulting in risk aversion across financial market investors. In the next article, we'll explain why trade wars cannot be won.