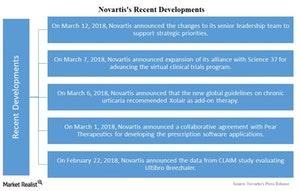 Must-Know Recent Developments from Novartis
By Mike Benson

Mar. 15 2018, Updated 9:01 a.m. ET
Novartis revenues
As discussed earlier, Novartis (NVS) reported 2% growth in operating revenues to ~$12.9 billion during 4Q17 as compared to revenues of ~$12.3 billion during 4Q16.
The above chart shows recent developments for Novartis.
Article continues below advertisement
Recent developments
Some of the recent developments for Novartis are as follows:
On March 12, 2018, Novartis announced changes to its senior leadership team to support strategic priorities.
On March 7, 2018, Novartis announced the expansion of its alliance with Science 37 for advancing the virtual clinical trials program, and the launch of up to ten trials over the next three years with increasing decentralization.
On March 6, 2018, Novartis announced that the new global guideline on chronic urticaria recommended Xolair as add-on therapy for the treatment of patients with chronic spontaneous urticaria where antihistamines were not responsive.
On March 1, 2018, Novartis announced a collaborative agreement with Pear Therapeutics for developing the prescription software applications for effective treatment of patients with multiple sclerosis and schizophrenia.
On February 22, 2018, Novartis announced the data from the CLAIM study, evaluating Ultibro Breezhaler. The use of once-daily Ultibro Breezhaler improved lung function and cardiac function significantly in patients with chronic obstructive pulmonary disease (or COPD) having lung hyperinflation.
On February 16, 2018, Novartis announced data from the SCALP study, a Phase III study evaluating Cosentyx for the treatment of patients with scalp psoriasis. The drug Cosentyx showed significant improvement in skin clearance in patients with moderate-to-severe scalp psoriasis.
The Vanguard FTSE Europe ETF (VGK) holds 11.2% of its total investments in healthcare companies. VGK holds 1.8% in Novartis (NVS), 0.9% in Sanofi (SNY), 0.8% in AstraZeneca (AZN), and 0.8% in GlaxoSmithKline (GSK).