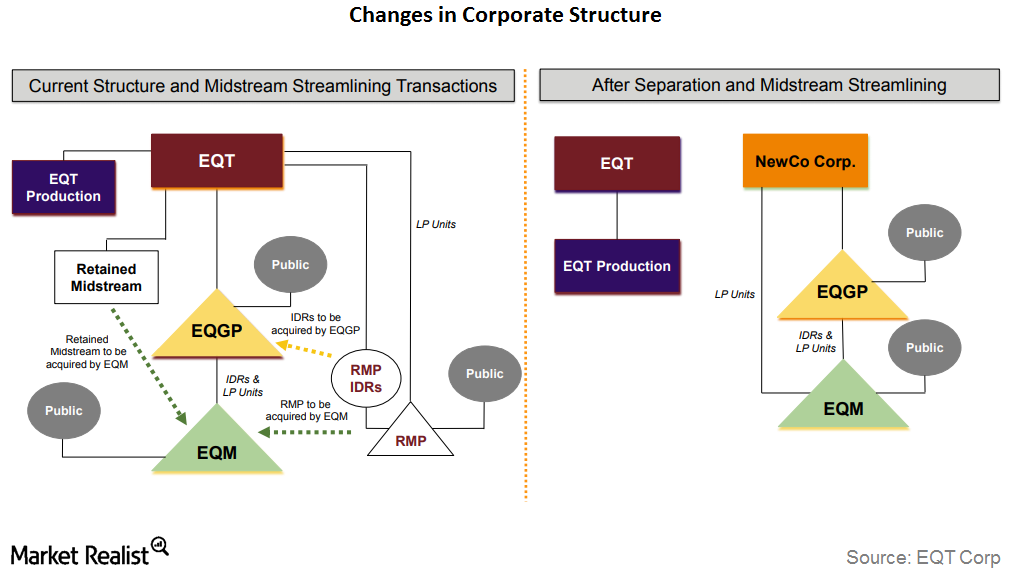 How Will EQT Corporation's Organizational Structure Change?
Changes in corporate structure
After the close of the EQT Corporation (EQT) and Rice Energy (RICE) merger, shareholders of EQT stock will own 65% of the combined company, while Rice Energy shareholders will own 35% of the combined company.
As we discussed in the preceding part of this series, EQT will drop down its retained midstream assets to EQT Midstream Partners LP (EQM), and Rice Midstream Partners (RMP) will sell its IDRs (incentive distribution rights) to EQT GP Holdings LP (EQGP). Additionally, RMP would be acquired by EQM, but EQGP and EQM would remain separate publicly traded entities after separation.
Article continues below advertisement
Article continues below advertisement
After the midstream separation, CEO Steve Schlotterbeck was expected to remain the CEO of EQT Corporation, while Jerry Ashcroft, the current senior vice president and president of the Midstream segment for EQT as well as the senior vice president and chief operating officer of EQM, will act as CEO of the new midstream company.
However, on Thursday, March 15, EQT announced the abrupt resignation of Steve Schlotterbeck and said that David Porges, the former chairman and CEO, would serve as interim president and CEO of EQT.