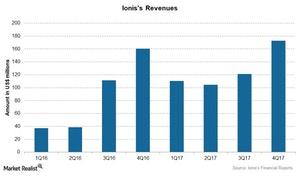 How Did Ionis's Revenues Trend in 4Q17?
By Mike Benson

Updated
Ionis in 4Q17
Ionis (IONS) is a leading biopharmaceutical company focused on discovering, developing, and commercializing RNA-targeted therapies. Ionis has created a drug discovery platform and developed many drugs for the treatment of various life-threatening diseases.
The above chart compares the revenues for Ionis since 1Q16. For 4Q17, Ionis reported revenues of $172.3 million, 7.5% growth as compared to revenues of $160.3 million during 4Q16.
Article continues below advertisement
Revenues
Ionis's revenue sources include commercial revenues from Spinraza royalties and other licensing and royalty revenues, as well as research and development revenues under collaborative agreements.
Key drugs portfolio
To date, Ionis has developed the following drugs in its severe and rare franchise:
Spinraza (nusinersen) is approved for the treatment of pediatric and adult patients with spinal muscular atrophy. The drug was developed in collaboration with Biogen (BIIB), and Biogen holds the development, manufacturing, and commercializing licenses.
The Kynamro injection is approved for the treatment of homozygous familial hypercholesterolemia by the US Food & Drug Administration (or FDA) and a few other countries. Kastle Therapeutics, a Sanofi (SNY) subsidiary, holds the worldwide development and commercialization rights for the Kynamro injection.
Alicaforsen treats pouchitis. Atlantic Healthcare holds the exclusive worldwide development and commercialization licenses for Alicaforsen.
Some other drugs from Ionis's late-stage pipeline include the following:
Inotersen, or Ionis-TTR, treats patients with transthyretin amyloidosis. Transthyretin amyloidosis is a fatal disease, where amyloid plaque deposits in tissues progressively increase. Inotersen is in the registration phase.
Volanesorsen treats familial chylomicronemia syndrome and familial partial lipodystrophy. Volanesorsen is in the registration phase for the treatment of familial chylomicronemia syndrome and is undergoing phase three clinical development for familial partial lipodystrophy.