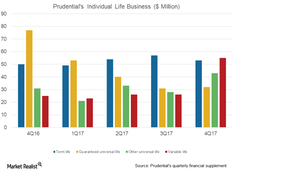 Behind Prudential's Individual Life Segment
By Raymond Anderson

Mar. 2 2018, Updated 4:25 p.m. ET
Premiums
Prudential Financial's (PRU) Individual Life segment posted adjusted operating income of -$191 million in 2017 compared to $79 million in 2016. It generated revenues of $4.9 billion in 2017 compared to $5.3 billion in 2016. Between 2016 and 2017, net investment income rose $126 million.
In 2017, premiums for the Individual Life segment rose $35 million compared to 2016, mainly due to a positive momentum in term life insurance. The segment reported benefits and expenses of $5.2 billion in 2017 compared to $5.3 billion in 2016.
Article continues below advertisement
Product offerings
The Individual Life segment consists of product offerings such as term life, variable life, guaranteed universal life, and other universal life. The segment distributes these products through Prudential Advisors and third-party channels. In 2017, the segment generated total annualized new business premiums of $624 million compared to $630 million in 2016. The decline was mainly due to a fall in sales for guaranteed universal life. However, sales of other products saw positive momentum.
Of the total annualized new business premiums in 2017, term life contributed $213 million, and variable life brought in $130 million. However, guaranteed universal life and other universal life contributed $156 million and $125 million, respectively, in 2017.
The return on invested capital for Prudential Financial is 0.80% on an LTM (last-12-month) basis. The percentage for peers (XLF) Reinsurance Group of America (RGA), CNO Financial Group (CNO), and MetLife (MET) are 7.7%, 0.98%, and 0.08%, respectively, on an LTM basis.