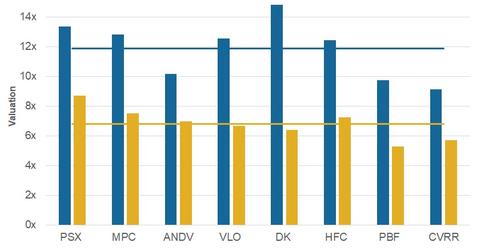 Are Phillips 66's Growth Activities Raising Its Valuations?
By Maitali Ramkumar

Updated
Phillips 66's valuations compared to its peers
Currently, Phillips 66 (PSX) is trading at a forward PE (price-to-earnings) ratio of 13.4x, which is above the peer average of 11.9x. PSX's peers Marathon Petroleum (MPC), Valero Energy (VLO), Delek US Holdings (DK), and HollyFrontier (HFC) are also trading above the peer average at 12.8x, 12.5x, and 12.4x, respectively. DK's PE ratio is much higher at 14.8x.
Moving to EV-to-EBITDA (enterprise value to earnings before interest, tax, depreciation, and amortization), Phillips 66 (PSX) is trading at a forward EV-to-EBITDA ratio of 8.7x, which is above its peer average of 6.8x. Andeavor (ANDV) is also trading above the peer average at 7.0x. However, PBF Energy (PBF) and CVR Refining (CVRR) are trading below the peer average at 5.3x and 5.7x, respectively.
Article continues below advertisement
Why the premium for PSX?
Phillips 66 is trading above its peer average, which is likely due to its earnings model that's growth-oriented and well-diversified. PSX's capital budget for 2018 is $2.3 billion, of which $1.4 billion is for growth activities. PSX focuses on improving steady income from its midstream and marketing segments along with growing returns from its refining segment. Let's look at PSX's latest growth activities.
PSX's petrochemical project in the US Gulf Coast is nearing completion. Currently, the ethane cracker is commissioning with an expected ramp-up to full capacity in 2Q18.
PSX's expansion of the Beaumont Terminal's export capacities was completed in 4Q17. The Terminal's export capacity has now risen from 400 Mbpd (thousand barrels per day) to 600 Mbpd. PSX plans to get another 3.5 million barrels of storage capacity for crude oil functional by 4Q18. With the completion of the expansion in 4Q18, the terminal's total storage capacity would rise to 14.6 million barrels.
In its refining segment, PSX's diesel recovery project at the Ponca City Refinery was completed in 4Q17. Projects to modernize the fluid catalytic units at the Bayway and Wood River refineries are expected to be completed in 2Q18. PSX is expected to move ahead with the 25,000-barrels-per-day isomerization project at the Lake Charles refinery. That would increase the higher-octane gasoline blend components. The isomerization project is anticipated to be completed in 4Q19.
PSX's focus on the integrated downstream value chain and capex (capital expenditure) activities could result in higher earnings and cash flows for the company. It's evident why PSX is trading above the peer average.