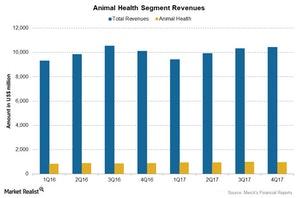 Merck & Co.'s Animal Health Segment in 4Q17
By Mike Benson

Updated
Animal Health segment
Merck & Co.'s (MRK) Animal Health segment includes drugs and vaccines for animals. The Animal Health segment reported revenues of $981.0 million in 4Q17, representing 11.0% growth compared to $884.0 million in 4Q16. This growth includes 8.0% growth in revenues at constant exchange rates and a 3.0% favorable impact of foreign exchange.
The chart below compares revenues from the Animal Health business since 1Q16.
Article continues below advertisement
Revenues
The Animal Health segment's growth in 4Q17 was driven by increased revenues from companion products like Bravecto as well as vaccines. The inclusion of revenues from Vallée SA, increased sales of ruminants, and increased sales of swine and poultry products contributed to the company's overall revenue growth in the quarter.
Merck & Co. had acquired Vallée SA, a private company based in Brazil, in 1Q17. Merck added its extensive portfolio of parasiticides, anti-infectives, and vaccines for livestock, horses, and companion animals.
Companion animal products
The companion animal products portfolio includes various pet products for use by pet owners and veterinarians. The key Bravecto line of products included chewable tablets used to kill fleas and ticks in dogs and cats for up to 12 weeks. 
Apart from Bravecto, Merck's companion animal products include Nobivac Canine Flu Bivalent Vaccines, Activyl, Panacur, Scalibor, veterinary insulin Vetsulin, and various eye and ear products.
Food animal products 
The food animal products portfolio includes the company's aquaculture, swine, and poultry products. The aquaculture products help maximize fish growth and survival, and they help increase the production of farmed fish. Aquaculture products include Aquavac, Aquaflor, and Slice.
Merck's swine products help improve the health of pigs. Its swine products include Regumate, ResPig, and Zuprevo.