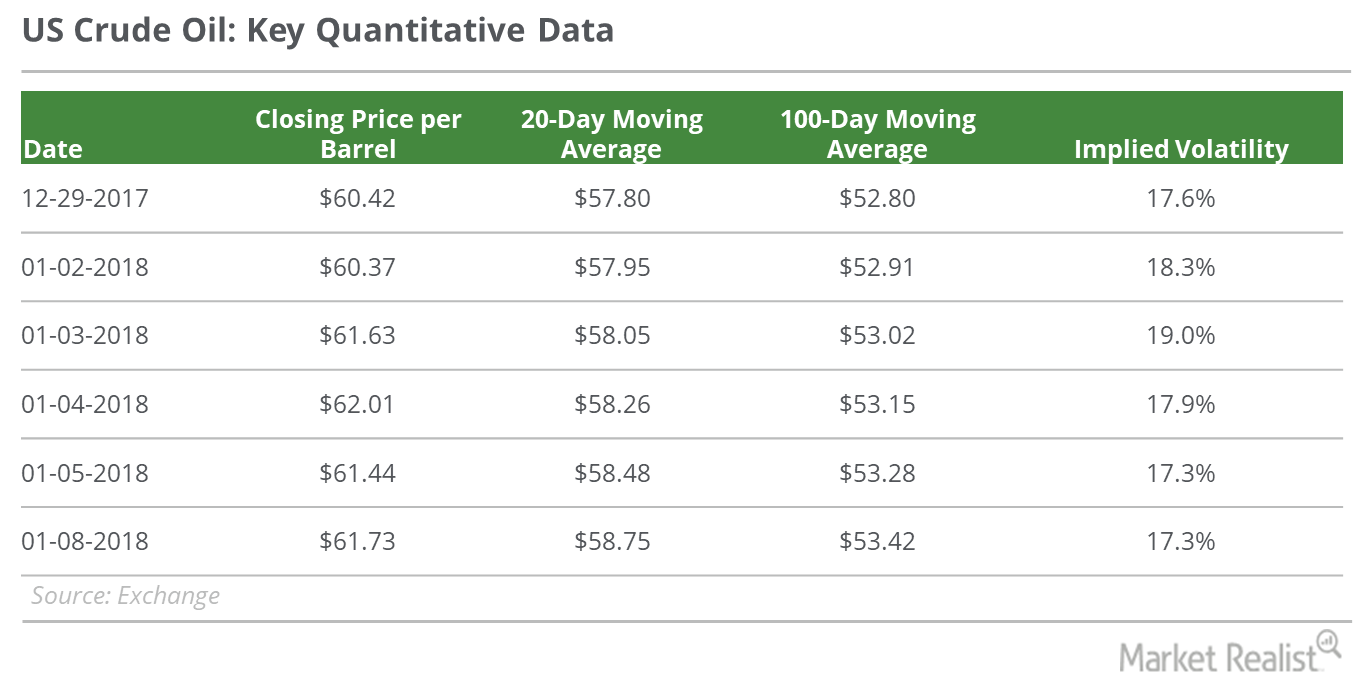 Will US Crude Oil Prices Make a New 3-Year High?
US crude oil
On January 8, 2018, US crude oil (USO) (USL) February 2018 futures rose 0.5% and closed at $61.73 per barrel—0.5% below the three-year high. The implied volatility was 17.3%—near its three-year low. So, a sharp move in oil prices isn't expected. It could also explain the range-bound oil prices in the last few trading sessions.
However, higher oil prices could increase US oil production. The risk from US crude oil supplies could fuel bearishness in oil prices in 2018. In the next part, we'll discuss the possible fall in US crude oil inventories, which could support oil prices. It might help US crude oil prices touch a new three-year high.
Article continues below advertisement
Between December 29, 2017, and January 8, 2018, US crude oil February futures rose 2.2%. The rise in oil prices can sway the energy constituents of the S&P 500 (SPY) and Dow Jones Industrial Average (DIA). These equity indexes rose 2.8% and 2.3% during this period, respectively. On January 1, 2018, the markets were closed due to the New Year holiday.
Moving averages
On January 8, 2018, US crude oil active futures were 5.1%, 7.9%, 15.6%, and 21.7% above their 20-day, 50-day, 100-day, and 200-day moving averages, respectively. The gap between US crude oil's 50-day moving average and 200-day moving average was 12.9%. The 50-day moving average hovered over the 200-day moving average, which could increase the bullishness in oil prices.