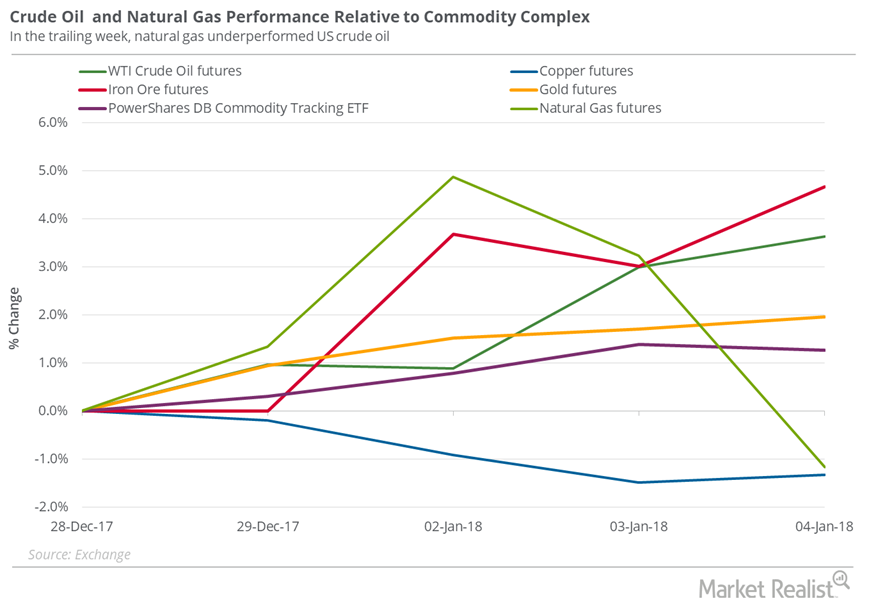 Why Oil Reached a 3-Year High
US crude oil
Apart from the falling US oil inventory, OPEC's extended production cuts and geopolitical tensions helped US crude oil prices reach a three-year high.
Between December 28, 2017, and January 4, 2018, US crude oil futures rose 3.6%. Have higher oil prices helped the S&P 500 Index (SPY) (SPX-INDEX) and the Dow Jones Industrial Average Index (DIA-INDEX) rise? We'll discuss this in the next part.
Article continues below advertisement
Natural gas
On January 4, 2018, natural gas's (UNG) (BOIL) February 2018 futures fell 4.3% and closed at $2.88 per MMBtu (million British thermal units). On the same day, the EIA reported natural gas inventory data. In the week ending December 29, 2017, natural gas inventories fell by 206 Bcf (billion cubic feet)—compared to the market forecast of a fall by 221 Bcf. It could have caused the fall in natural gas prices.
Apart from this, the "bomb-cyclone" impacting eastern parts of the US could hamper electricity distribution and cause power plants to consume less natural gas—a bearish development for natural gas prices. At the same time, demand for heating oil and diesel towards heating needs could rise. So, the storm could have a positive impact on oil prices. On January 4, 2018, US crude oil and natural gas prices diverged, as we discussed earlier. In the trailing week, natural gas prices fell 1.2%.