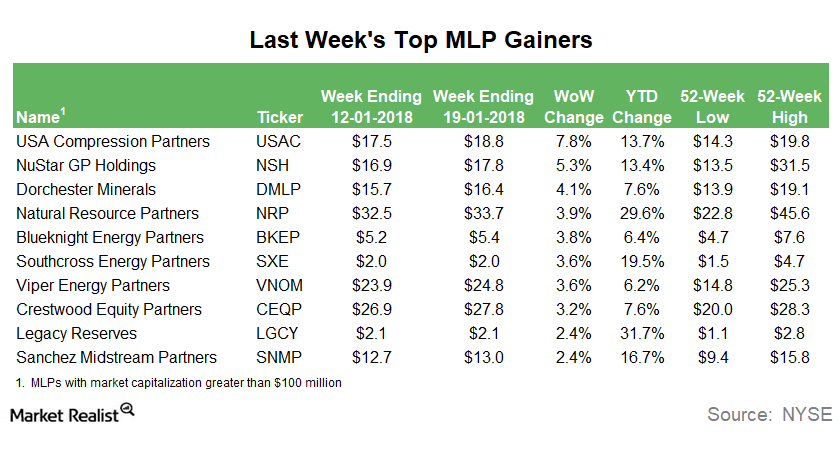 Why USAC Was the Top MLP Last Week
USA Compression Partners
USA Compression Partners (USAC), a midstream MLP involved in natural gas contract compression services, was the top MLP gainer last week with WoW (week-over-week) gains of 7.8%. USAC rallied following its announcement that it plans to acquire Energy Transfer Partners' (ETP) natural gas compression business in a deal valued at $1.8 billion.
"The transaction is expected to be accretive to USAC's distributable cash flow in 2018," noted a related press release. The expected synergies to USAC from this transaction are $20 million on a run-rate basis. On the other hand, the transaction is expected to strengthen ETP's balance sheet. Forø details, see ETP to Sell Compression Business to USAC.
Article continues below advertisement
NuStar GP Holdings
NuStar GP Holdings (NSH), the GP (general partner) of NuStar Energy (NS), was the second-highest MLP gainer last week. NSH ended the week 5.3% higher. It has risen 13.4% since the start of this year. Despite the recent gains, the GP has lost 42.1% over the past year, mainly due to a reduction in cash flows resulting from IDR (incentive distribution rights) subsidies to the limited partnership and high leverage.
Dorchester Minerals
Dorchester Minerals (DMLP), a royalty and mineral interest owner MLP, was the third-highest MLP gainer last week. DMLP rose 7.6%. The partnership rallied following the announcement of distributions for the fourth quarter of 2017. DMLP, which is a variable-distribution MLP, declared a distribution of $0.3869 per unit for 4Q17—the partnership's highest distribution in the last 12 quarters.
Other Top MLP gainers
Natural Resource Partners (NRP), Blueknight Energy Partners (BKEP), Southcross Energy Partners (SXE), Viper Energy Partners (VNOM), Crestwood Equity Partners (CEQP), Legacy Reserves (LGCY), and Sanchez Midstream Partners (SNMP) were among the top MLP gainers last week.
In the next part of this series, we'll look into USA Compression Partners' (USAC) technical indicators.