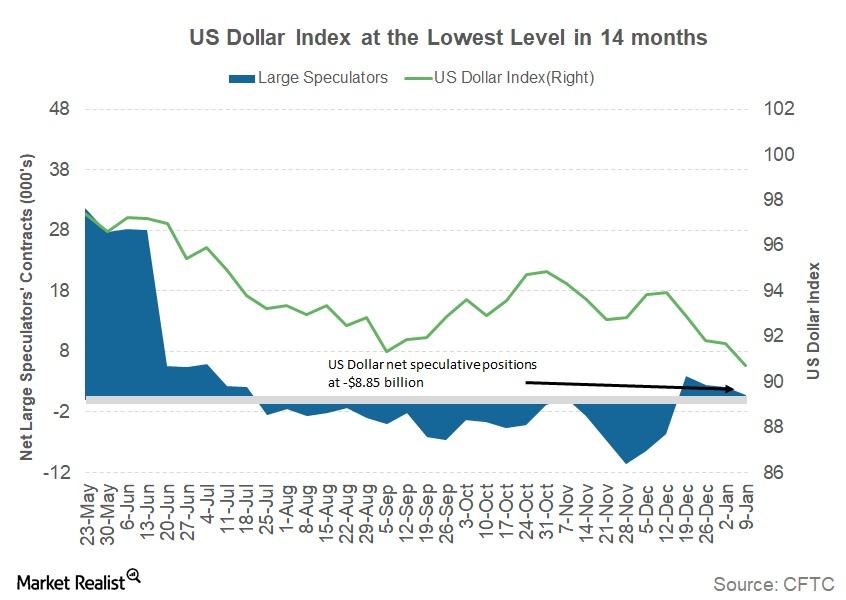 Why the US Dollar Is Losing Its Appeal
US dollar slides further
The US Dollar Index (UUP) continued its decline, posting a fourth consecutive weekly loss during the week ended January 12. Economic data and other macro events in the US had little to do with the continued decline of the US dollar.
The hawkish European Central Bank minutes, signaling a possible tightening and the possibility of a softer Brexit, increased the demand for the euro and the British pound. The US Dollar Index closed at 90.73 for the week ended January 12, 2018, depreciating by ~1.0%.
Article continues below advertisement
Speculators move to net short positions
According to the latest Commitment of Traders (or COT) report, released on January 12 by the Chicago Futures Trading Commission (or CFTC), large speculators have turned bearish on the US dollar.
According to Reuters, the US dollar (USDU) net short positions increased from ~-$4.6 billion to ~-$8.9 billion on Tuesday, January 9. This amount is a combination of the US dollar's contracts against the combined contracts of the euro (FXE), British pound (FXB), Japanese yen (FXY), Australian dollar (FXA), Canadian dollar (FXC), and the Swiss franc.
Outlook for the US dollar
With respect to the US dollar, December's industrial production is the key data point for this week. Plus, FOMC member speeches, the uncertainty surrounding the US debt ceiling, and a possible US government shutdown would be key events to watch this week.
Traders would be looking for signs of a March rate hike in the FOMC (Federal Open Market Committee) member speeches this week. If there are any such signs, we could see some support for the US dollar.
In the next part of this series, we'll discuss why bond market yields shot up in the previous week.