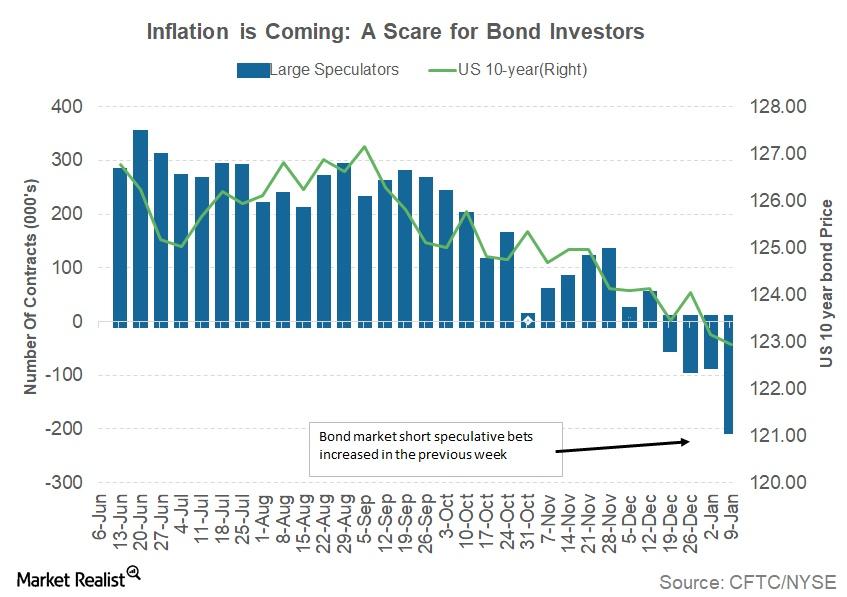 Why the US Bond Market Moved Lower Last Week
US bond markets were under pressure
The US bond (BND) markets were under pressure for most of the week ended January 12. The key reason for the bond market sell-off was the fear that inflation is set to increase in the months ahead. According to data reported on January 12, the consumer price index (or CPI) rose 0.1%, bringing the year-over-year inflation figure to 2.1%.
The core CPI of 0.3% pushed the annual number up by 0.1% to 1.8%. This rise in inflation could keep rate hike expectations elevated, leading to higher yields and lower bond prices.
Article continues below advertisement
Bond market performance and speculator positions
For the week ended January 12, the ten-year yield (IEF) increased by 7 basis points to 2.55%. The two-year yield (SHY) closed above 2.0% (up by 4 basis points) for the first time in over a year. The 30-year yield (TLT) closed at 2.85% (up by 5 basis points) for the week ended January 12.
According to the January 12 Commitment of Traders report, speculators increased their short positions on the ten-year bond. The net short positions increased from 75,850 contracts to 196,853 contracts. With renewed hopes of rate hikes in this year and backed by strong inflation growth, it is likely that traders could remain short on the bond markets.
The week ahead for the bond markets
The possibility of a US government shutdown could pressure the bond markets this week. However, the impact could be limited to a few basis points, as investors are aware that a deal would be eventually struck.
Several FOMC (Federal Open Market Committee) member speeches are due soon, as the members could emphasize future rate hikes. This development could pressure the bond markets (AGG) in the week ahead.
In the next part of this series, we'll analyze why the euro appreciated sharply during the previous week.