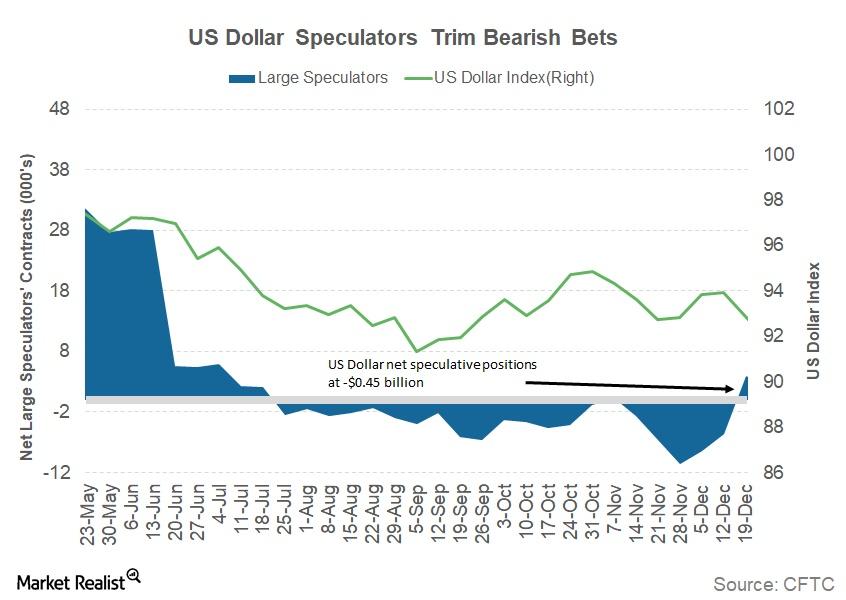 How Could the US Dollar Fare in 2018?
US dollar had the worst year in a decade
The US Dollar Index (UUP) was one of the major disappointments of 2017, depreciating by 9.0% and putting in its worst performance since 2003. What was puzzling to many investors was the fact that the dollar depreciated despite the US economy performing well and the Federal Reserve leading central banks in aggressive policies.
The key issue was low inflation and the relative strength of the other major currencies that pushed demand for the US dollar lower. For the week ended December 29, the US dollar index closed at 91.83 compared to 92.92 in the previous week, depreciating by ~1.2%.
Article continues below advertisement
Speculators reduced bearish positions
According to the latest Commitment of Traders report, released on December 29 by the Chicago Futures Trading Commission, large speculators reduced their net short positions on the US dollar.
According to Reuters calculations, the net US dollar (USDU) net short positions decreased from ~-$2.2 billion to -$0.45 billion in the previous week. This amount is a combination of the US dollar's contracts against the combined contracts of the euro (FXE), the British pound (FXB), the Japanese yen (FXY), the Australian dollar (FXA), the Canadian dollar (FXC), and the Swiss franc.
Outlook for the US dollar
The US dollar's long-term outlook looks marginally better in 2018 than in 2017. The implementation of US tax reforms and further tightening from the Federal Reserve could lead to a higher inflation rate, which could help the US dollar regain some lost ground.
For the week ahead, the December employment report and the FOMC meeting minutes should be in focus. Investors are expected to scan through the meeting minutes to see whether there could be more opposition to rate hikes when the Fed decides to do so. There were two dissents at the last meeting, during which the FOMC increased interest rates by 25 basis points.
In the next part of this series, we'll discuss how bond market investors are positioned for the start of 2018.