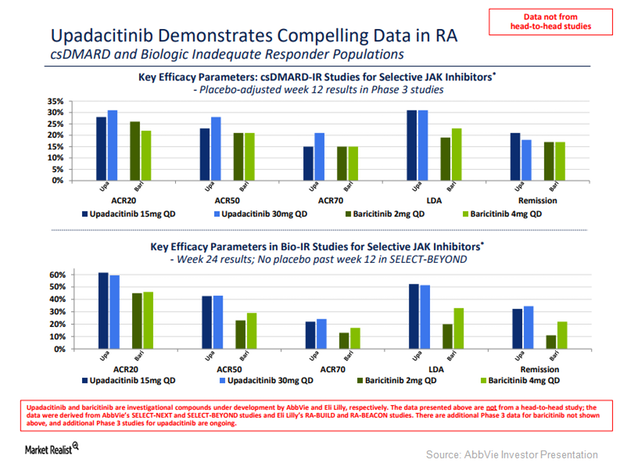 What Upadacitinib Did for AbbVie in 2017
Select: beyond clinical trial results
In September 2017, AbbVie's (ABBV) investigational immunology drug, Upadacitinib (ABT-494), managed to demonstrate its clinical potential in the second trial of its phase-3 select program in the difficult-to-treat rheumatoid arthritis patient population.
The primary end point of this trial was the ACR-20 response and low disease activity (or LDA).
Article continues below advertisement
Value proposition
Upadacitinib has managed to demonstrate significant improvement not only in the ACR 20 response but also on stringent parameters such as the ACR 50 response, the ACR 70 response, clinical remission, and LDA. The company considers the response elicited by this investigational drug in the difficult-to-treat refractory patients to be similar to what is generally witnessed in biologic-naïve RA patients.
Since there are limited treatment options for RA patients who fail to respond to biologics, these trial results may help boost chances of FDA (US Food and Drug Administration) approval and subsequent strong commercial launch for the drug in the RA segment.
Despite the higher efficacy, however, AbbVie has not noticed any significant difference in deep vein thrombosis (or DVT) and pulmonary embolism (or PE) event rates related to Upadacitinib, as compared to the background rate expected in RA patient population. The company, however, has instituted a comprehensive monitoring program to track the safety incidents in the Upadacitinib phase-3 program.
Upadacitinib is thus expected to further strengthen AbbVie's immunology franchise, and enable it to compete even more effectively with other RA players such as Pfizer (PFE), Amgen (AMGN), and Johnson & Johnson (JNJ).
Notably, AbbVie accounts for 4.8% of the Health Care Select Sector SPDR Fund's (XLV) total portfolio holdings.
In the next part of this series, we'll discuss additional research programs related to Upadacitinib.