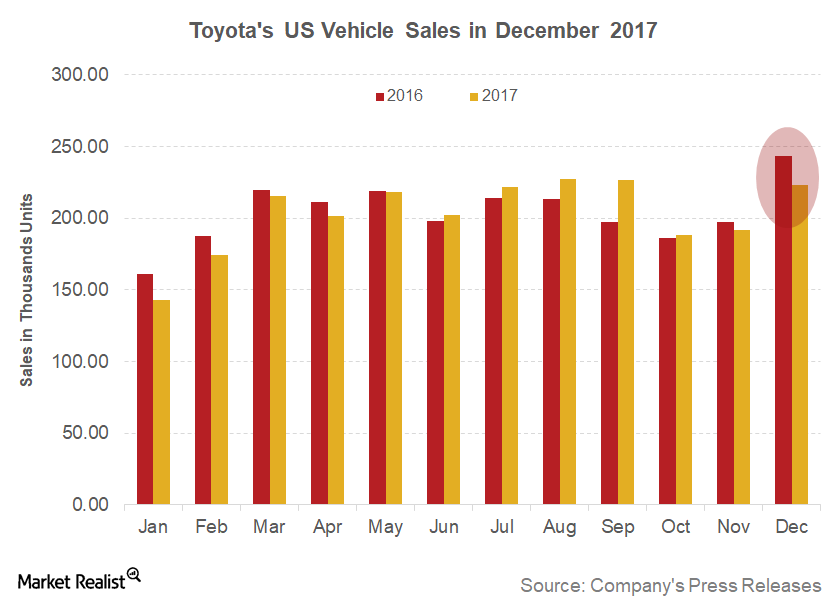 Why Toyota's US Sales Continued to Drop in December 2017
Toyota's US sales in December
In December 2017, Toyota Motor (TM), the largest Japanese automaker, reported an 8.3% year-over-year (or YoY) decrease in its US sales volume to 222,985 units. In November, the company's US sales also went down by 3.0% YoY to 191,617 vehicles.
December was the second consecutive month when TM's US sales remained weak. Before November, the company reported YoY sales gains in the previous five consecutive months despite weaker industry-wide data.
In 2016, Toyota's global vehicle sales took second position after the European auto giant Volkswagen (VLKAY). TM offers vehicles under two key brands, Toyota and Lexus, which include cars, utility vehicles, and trucks.
Article continues below advertisement
Article continues below advertisement
Truck segment sales disappointed
Toyota's total US car sales in December fell 12.2% YoY to 88,078 units. Also, its US truck sales for the month went down by ~5.6% YoY to 134,900 units. In the previous month, Toyota's truck segment sales rose by 2.3% YoY.
A massive drop in TM's car sales along with weakness in the truck segment sales were the key factors that hurt its total US sales in December 2017.
Before December, Toyota's US truck sales rose YoY for the previous ten consecutive months, which was a positive factor for its profit margins. Toyota Motor's profit margins are already higher than its peers (IYK) including Fiat Chrysler (FCAU), Ford (F), and General Motors (GM). In the most recently reported quarter, Toyota's adjusted net profit margins were at 6.4%, much better than GM's 5.8%, FCAU's 3.5%, and Ford's 5.2%.
2017 US sales
Toyota sold about 2.4 million units in the US market in 2017. This data reflected a volume decrease of about 0.6% from about 2.5 million units sold in the previous year. Last year, the sales of Toyota brand vehicles were up 0.5%, while Lexus sales fell 7.9% YoY.
Read on to the next part where we'll find out how Honda's US sales were in December 2017.