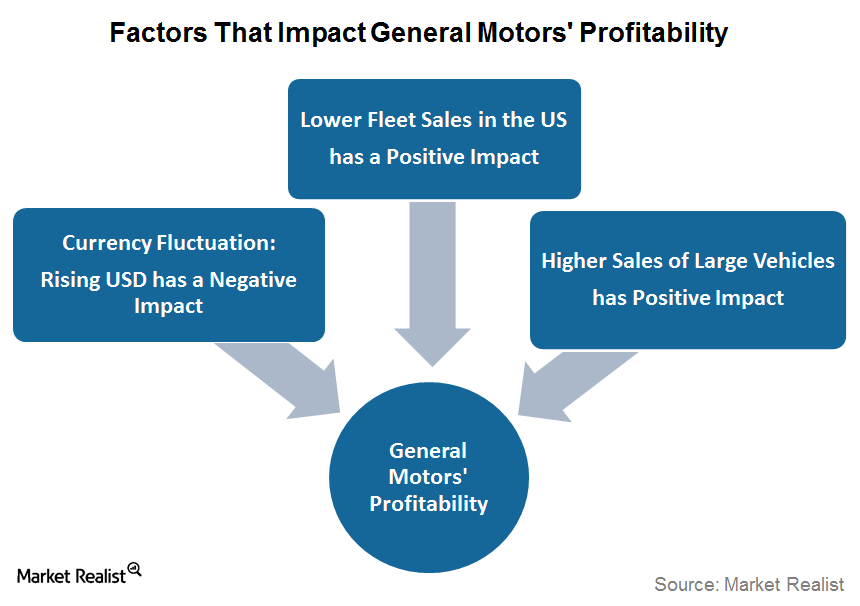 What Factors Are Affecting General Motors' Profitability?
General Motors' net profit margin
In the last article of this series, we looked at General Motors' (GM) gross and EBITDA (earnings before interest, tax, depreciation, and amortization) margins against those of its competitors. Now, let's take a look at its net profit margins and analyze some factors that are affecting its profitability.
At 6.4% in 2015, GM's profit margin stood higher than US auto giant Ford Motor Company's (F) 4.9% profit margin.
Article continues below advertisement
Article continues below advertisement
Unfavorable currency movement
According to 2015 sales volume, General Motors is the largest US automaker and the third-largest automaker globally. Having business operations in several markets globally exposes the company to currency fluctuation risks.
At constant currency rates, GM's 2015 revenues were $5.8 billion higher year-over-year. This implies that the stronger US dollar stole nearly $9.3 billion from General Motors' 2015 revenues. Currency fluctuation also affects General Motors' profitability.
In recent years, the profitability of other US automaker Ford was also negatively impacted by a stronger US dollar. However, Japanese automakers (FXD), including Toyota Motor (TM) and Honda Motor Company (HMC), gained from the continued weakness of the Japanese yen versus the US dollar.
Cutting fleet sales in the United States
Fleet sales, or wholesale sales, are made at a discount to a vehicle's normally-quoted prices. These sales help companies add to their revenues without contributing proportionately to profits. In the past couple of years, General Motors has cut down on its fleet sales to protect its profit margins.
Note that in 2015, US auto sales were at historic high levels, with 17.4 million vehicles sold. Due to this, US automakers such as GM have been running their plants at full capacity. In this scenario, cutting down fleet sales should help to improve the company's margins. This is because General Motors can utilize its plant capacity to build bigger vehicles that are more profitable for its retail customers.
Automotive fleet sales include the wholesale supply of vehicles to various taxi companies, car rental companies, and public departments. Typically, margins from fleet sales remain lower than retail sales of vehicles. According to GM, it plans to continue cutting its fleet sales in the coming years in efforts to expand its margins further.
Continue to the next article to find how General Motors is planning to benefit from a recent trend in the US auto market.