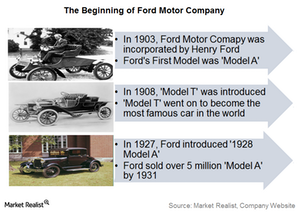 A Look at Ford Motor Company's Humble Beginnings
The beginning
Ford Motor Company (F) is one of the oldest and most well-known automobile manufacturers in the world. The company was incorporated in 1903 by Henry Ford. It's headquartered in Dearborn, Michigan. The initial cash investment was just ~$28,000, with 1,000 shares and 12 investors.
Interestingly, before founding Ford Motor Company, Henry Ford had made two unsuccessful attempts to enter into the automobile manufacturing business.
In 1919, Henry Ford decided to repurchase the company's shares, making him, his wife Clara Ford, and his son Edsel Ford the sole owners of the business entity. In this way, the Ford Motor Company was reincorporated.
Article continues below advertisement
Model T: A milestone
Ford Motor Company came into business selling its first vehicle, the Model A, in 1903. However, what made the company so popular among the masses was the huge success of its Model T, launched in 1908.
Back then, motor vehicles were considered affordable only to a niche consumer class with a high income. Most auto manufacturers (XLY) were trying to make luxurious vehicles that appealed to the richest class of the population.
Being born and raised in a farmer family, Henry Ford had the vision to produce a vehicle for the masses. This encouraged him to produce the Model T, which was affordable to the middle class and could also be used in the transportation of goods.
Within years, Ford's Model T became so popular that the company had to announce it couldn't take any more orders for the vehicle.
1928 Model A
Ford sold more than 15 million Model T vehicles by 1927. At that time, this was nearly half of the total number of vehicles sold by all manufacturers combined.
However, by 1927, Ford had to stop the production of the Model T due to a sharp fall in demand. This fall was primarily the result of the increasing popularity of General Motors' (GM) Chevrolet brand among consumers.
Toward the end of 1927, Ford introduced its 1928 Model A with an improved design. Model A was equipped with a 40 horsepower engine compared to the 20 horsepower engine used in the Model T. According to the company, more than 5 million Model A vehicles were sold to consumers by 1931.
Note that contemporary automobile giants such as Volkswagen (VLKAY) and Daimler (DDAIF) were founded much later than Ford. Apart from producing the first mass-marketed vehicle, Ford also brought some permanent changes to automotive production plants, which we'll discuss in the next article of this series.