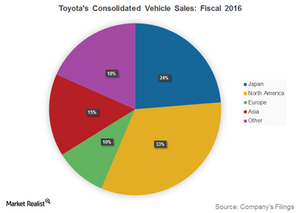 What Are the Key Markets for Toyota Motor Corporation?
By Jitendra Parashar

Jun. 8 2016, Updated 1:05 a.m. ET
Key markets for Toyota
Previously, we looked at how Toyota (TM) conducts its business worldwide with 53 overseas manufacturing companies in 28 countries and regions. The company was originally considered to be a regional auto manufacturer.
However, Toyota busted this myth in the last several decades by gaining a huge market share worldwide, particularly in the US and Europe. In this part, we'll take a look at some of Toyota's key markets.
Article continues below advertisement
Japan: The home market
Toyota is the largest Japanese automaker and commands a huge market share in its home market. Currently, Japan is the second-largest market for the company after North America.
In fiscal 2016 (April 1, 2015–March 31, 2016), the company sold 2.1 million vehicle units in its home market. The region represents ~24% of Toyota's global consolidated vehicle sales.
Toyota in North America
North America is the largest single market for Toyota (TM), accounting for about 33% of its global consolidated vehicle sales in fiscal 2016. The company sold 2.8 million vehicle units in North America during the fiscal year. While Toyota has been witnessing a minor slowdown in its other key markets—including Japan, Asia, and Europe—for the last couple of years, North America has remained strong with good profitability.
These higher vehicle sales and revenues from North America were primarily driven by strong demand for SUVs. In this category, higher sales of the company's SUV models such as the RAV4 and Lexus NX played crucial roles.
General Motors (GM) is the largest automaker in the North America with highest market share in the region. Among other automakers (VCR), Ford (F) and Fiat Chrysler (FCAU) also have significant exposure to the North American auto market.
Asia and Europe
Toyota also has a strong product portfolio in Asian countries like Indonesia, Malaysia, Philippines, Taiwan, and India. In the most recent fiscal year ended March 2016, the company's vehicle sales in Asia stood at 1.3 million units, accounting for ~16% of its global consolidated vehicle sales.
In Europe, the company's vehicle sales totaled 0.84 million units or about 15% of its global consolidated vehicle sales. European sales data also includes Western Europe and Russia. Despite strong sales in Western Europe, Toyota's overall European sales declined due to decreased sales in Russia.
The Russian auto market is going through a bad phase due to weak oil prices and the depreciation of the ruble. In the last several years, these factors have negatively affected Toyota's business in the region.
Continue to the next article to learn about the evolution of Toyota's Just-in-Time system.