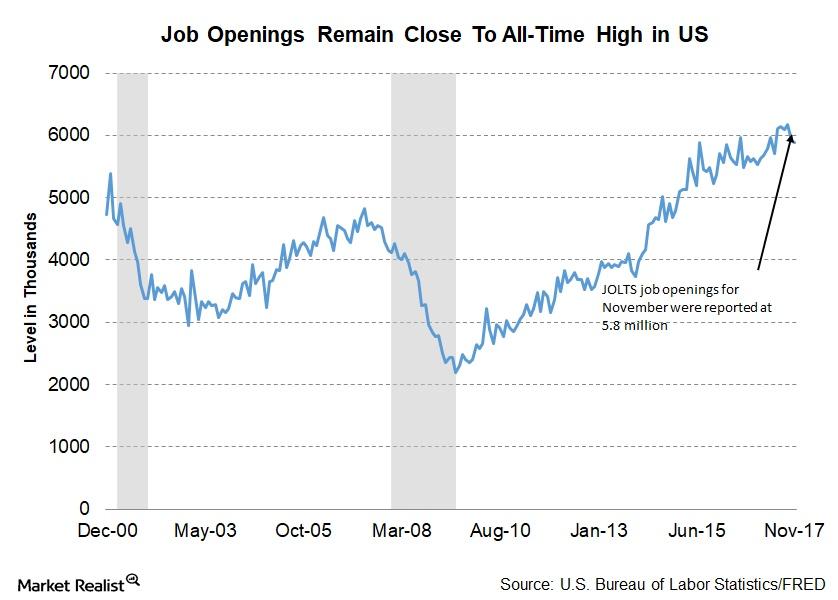 What November Job Openings Say about US Economy
January JOLTS report shows strength in US economy 
The Bureau of Labor Statistics (or BLS) conducts a monthly survey on job openings, new employees hired, employees who quit or asked to leave, and other job separations. This survey looks at data from 16,000 businesses in the United States from the non-farm and the private sector.
The BLS released its "Job Openings and Labor Turnover Survey" (or JOLTS) data for November on January 9. As per the January JOLTS report, there were 5.9 million job openings at the end of November. This figure was similar to October levels and close to the all-time high of 6.1 million job openings in September.
Article continues below advertisement
Why should we track of job openings?
The JOLTS report gives us insight into labor demand. The uptrend in job openings began in 2009 after the great recession, when job openings were at 2.1 million, and the unemployment rate was hovering near 10%. Fast-forward to 2017, and we are looking at the possibility of unemployment falling close to 4% and job openings close to 6 million. This slow but steady job growth is an indication that the US economy is on strong footing and the business cycle remains in an expansionary mode. A fall in job openings, on the other hand, could be interpreted as a sign of a future slowdown.
Importance of JOLTS report in the current economic climate
The JOLTS report can be considered a forward indicator of economic activity, but we need to aware of the volatile nature of this indicator and consider long-term trends when using this information to make investment decisions. The US Fed takes job openings into consideration when making changes to monetary policy. Changes in monetary policy impact the expectations of future interest rates (AGG). Any changes to interest rate expectations can impact the bond (BND), currency (UUP), and the financial services sector (XLF). A higher level of job openings can lead to higher wages and eventually higher inflation (TIP).
In the next part of this series, we'll look at the other important component of the JOLTS data including how many people quit their jobs during the period.