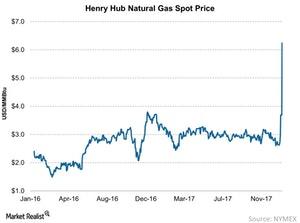 Why Natural Gas Rose Sharply Last Week
Natural gas
Natural gas is one of the key input components for gas-based nitrogen fertilizer producers (MOO)(MXI) such as CF Industries (CF), Terra Nitrogen (TNH), CVR Partners (UAN), and Nutrien (NTR). Unusual spikes in natural gas prices can put stress on the input costs for these nitrogen fertilizer producers. Last week, the natural gas prices at Henry Hub rose steeply.
Article continues below advertisement
Weekly movements
Henry Hub is where natural gas is most actively traded in the US. Last week, the prices at this location rose to a high of $6.2 per MMBtu (million British thermal units). Natural gas prices remained below $3 per MMBtu for the most part of last year.
Why prices rose
Last week, the natural gas prices rose steeply as a result of record low temperatures. According to the EIA (U.S. Energy Information Administration), the temperatures between December 24, 2017, and January 3, 2018, in the lower 48 states of the US were lower than their 30-year average temperatures between 1981 to 2010.
These low temperatures resulted in a spike in demand for heating, which is usually gas powered. The EIA stated that the total consumption of natural gas rose to 150 Bcf (Billion cubic feet), which topped the previous record of 143.3 Bcf in 2014.
In the next part of this series, we will discuss the prices of DAP (diammonium phosphate) fertilizers.