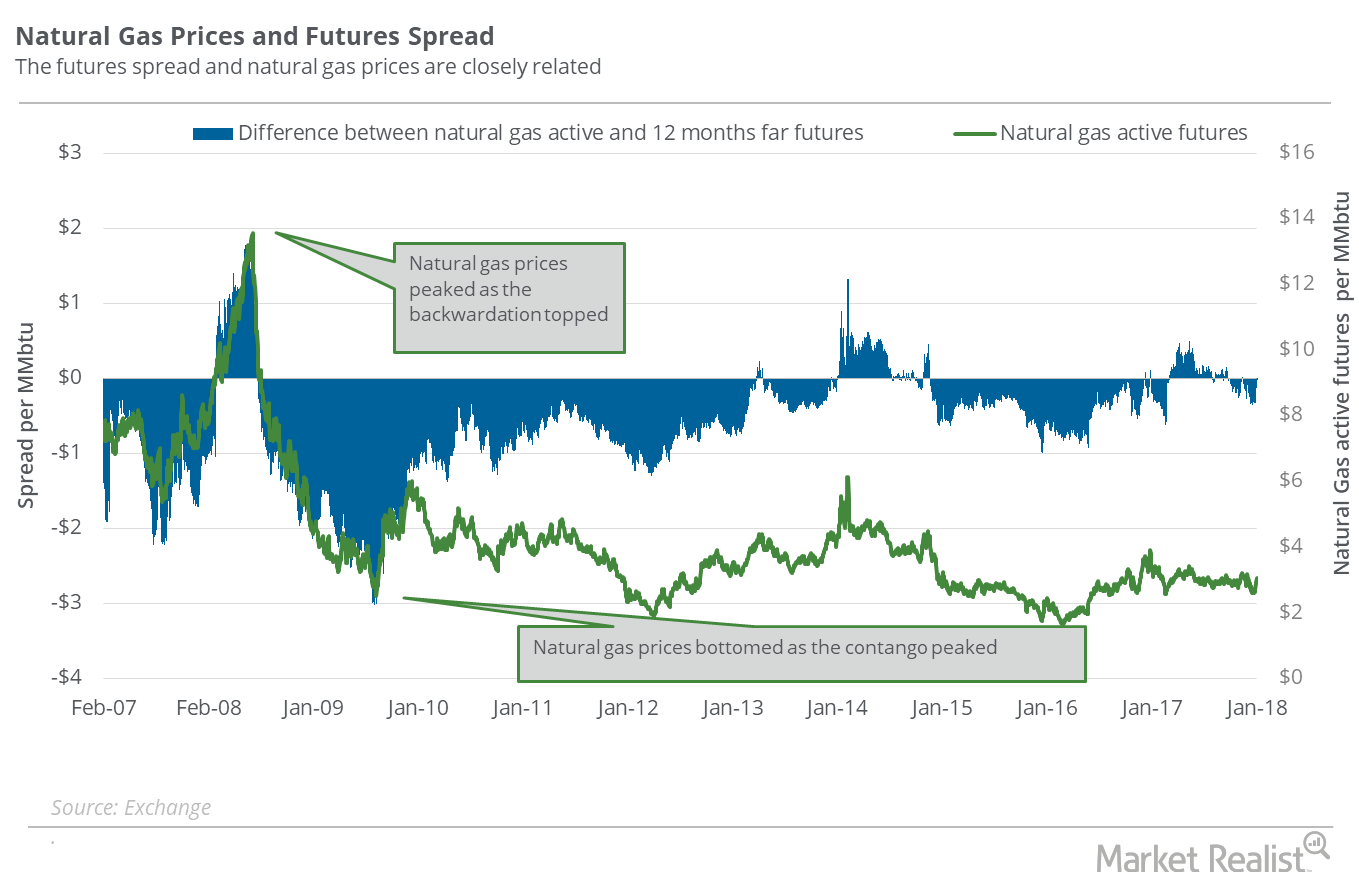 Natural Gas: Are Winter Demand Fears Rising?
Futures spread
On January 2, 2018, natural gas (UNG) (BOIL) (FCG) February 2018 futures settled $0.025 less than February 2019 futures. The futures spread was at a discount of $0.025. On December 26, 2017, the discount was $0.33. Between December 26, 2017, and January 2, 2018, natural gas February futures rose 15.1%.
A fall in the discount might support the rise in natural gas. However, natural gas prices might fall with a rise in the discount. On March 3, 2016, the discount rose to $0.84 and natural gas futures were at the lowest closing price in 17 years.
A fall in the premium might make natural gas prices fall. Natural gas prices might rise with a rise in the premium. On May 12, 2017, the premium rose to $0.5. Natural gas futures were at the highest closing price since 2016.
Article continues below advertisement
In the trailing week, the discount fell significantly, while natural gas futures rose 15.1%. It could mean that the market concerns about the natural gas supply have eased. The possibility of the natural gas market moving towards a supply deficit has also risen. Winter's demand fears could be increasing.
Energy sector
US natural gas producers' (XOP) (DRIP) (IEO) hedging operations depend on the natural gas futures forward curve. It's also important for midstream sector's (AMLP) natural gas transportation, storage, and processing related activities.
On January 2, 2018, the natural gas futures contract until May 2018 was priced progressively lower. It might benefit ETFs like the ProShares Ultra Bloomberg Natural Gas ETF (BOIL) and the United States Natural Gas Fund LP ETF (UNG) because they invest in natural gas futures.
Visit Market Realist's Energy and Power page for more analysis on natural gas prices.