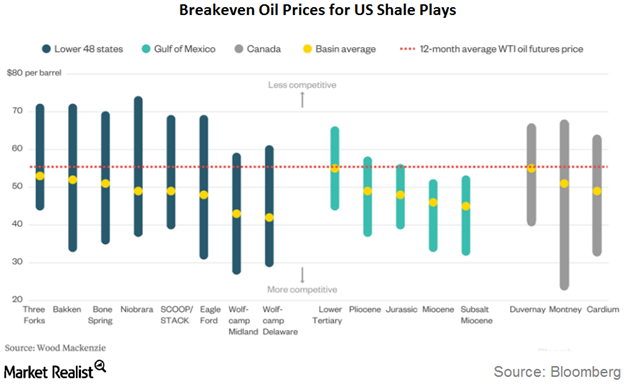 A Look at Breakeven Prices and Trends i n Eagle Ford Well
Breakeven prices
Analysts at Wood Mackenzie surveyed breakeven oil prices across major North American plays, as well as the Gulf of Mexico, earlier this year.
Article continues below advertisement
Permian Basin has lowest breakeven prices
As the chart above shows, the Midland and Delaware Basins, which are sub-basins of the Permian Basin, had the lowest breakeven prices. These sub-basins were followed by Eagle Ford, SCOOP/STACK, and the Niobrara plays.
In comparison, the Bakken Shale needs oil prices to be over $50 per barrel to break even.
IHS data: Trends in Eagle Ford wells
According to IHS Markit, the first through fourth quintile wells in the Eagle Ford continue to break even at current market prices. Higher service sector costs, extended-length laterals, and increased proppant loads (in some cases) has caused break-even prices for the upper quintiles to increase.
According to IHS, the top quintile wells are dominated by EOG Resources (EOG), Marathon Oil (MRO), and ConocoPhillips (COP). The lower quintiles are usually dominated by Sanchez Energy (SN), SM Energy (SM), and Carrizo (CRZO).
Chesapeake Energy (CHK), in contrast, has a wider distribution among quintiles, with a majority of its production classified in the third quintile.