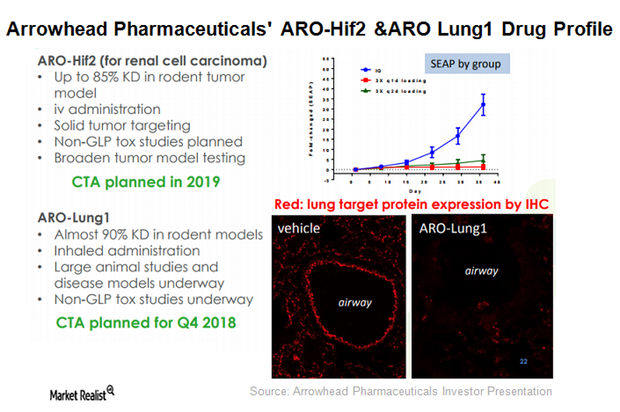 What Led to Arrowhead Pharmaceuticals' Revenue Surge in 2017?
ARO-LUNG1
Arrowhead Pharmaceuticals' (ARWR) therapeutic candidate ARO-LUNG1 is being developed for an undisclosed disease of the lung. This is the first candidate to utilize the company's TRiM platform. Arrowhead is aiming for a clinical trial application of the drug in 4Q18.
Article continues below advertisement
ARO-HIF2
Arrowhead's candidate ARO-HIF2 is under development for treating clear cell renal cell carcinoma (or ccRCCC). The drug is designed to inhibit the production of HIF-2a, which is associated with tumor progression and metastasis in ccRCC. The company has planned for a clinical trial application of the drug in 2019.
ARO-F12
Currently, ARO-F12 is under development for the possible treatment of diseases mediated by F12, such as hereditary angioedema and thromboembolic disorders. F12 initiates the intrinsic coagulatory pathway. Arrowhead's RNAi technology reduces the production of F12 and can thus prove to be a treatment option for hereditary angioedema and thromboembolic disorders.
Thrombosis is the formation of blood clots, which can primarily occur in veins and arteries and can obstruct blood flow.
Collaborations
Arrowhead entered into a licensing and collaboration agreement with Amgen (AMGN) in September 2016 under which the latter acquired the exclusive worldwide license to develop and commercialize ARO-LPA.
ARO-LPA reduces the production of apolipoprotein A. This protein is attributed to an increased risk of cardiovascular diseases.
Under the terms of the agreement, Arrowhead received an upfront payment of $35 million. Furthermore, Arrowhead is eligible to receive $617 million in the form of option payments, development, regulatory, and sales milestone payments.
Arrowhead Pharmaceuticals' cash-per-share ratio stands at 0.88, while the ratios of its peers Gilead Sciences (GILD), Ignyta (RXDX), and Loxo Oncology (LOXO) stand at 21.74, 2.18, and 12.48, respectively.
Arrowhead Pharmaceuticals makes up ~0.01% of the Vanguard Health Care ETF's (VHT) total portfolio holdings.