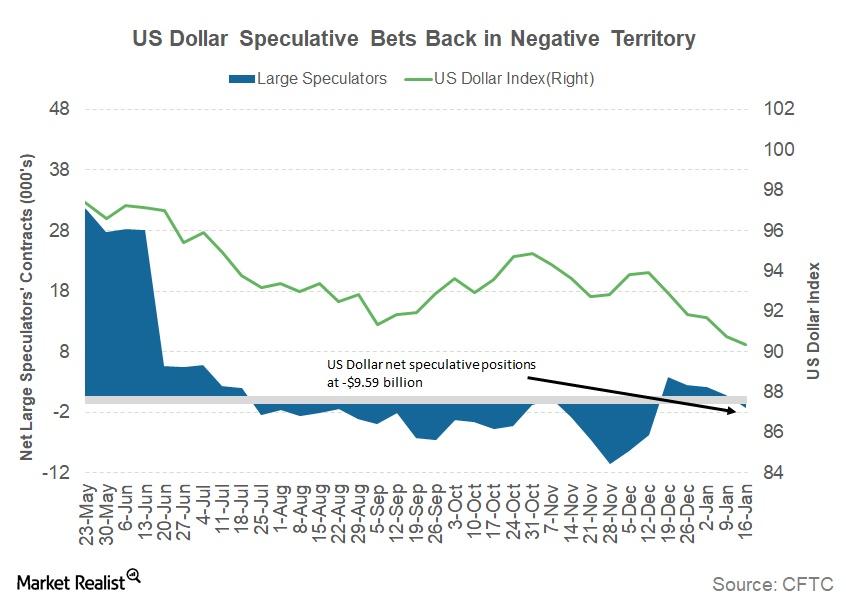 How the US Dollar Could React to a US Government Shutdown
The US dollar slides further
In the week ended January 19, 2018, the US Dollar Index (UUP) continued its decline, posting negative returns for a fifth consecutive week. Political developments surrounding the US government shutdown and mixed economic data drove the US dollar lower against major global currencies.
Historically, the dollar has declined during the initial days of a shutdown but bounced back, revealing the lack of a major impact on the US economy. The US Dollar Index closed at 90.37 for the week ended January 19, 2018, depreciating by 0.40%.
Article continues below advertisement
Speculators move to net short positions
According to the January 19 Commitment of Traders report, released by the Chicago Futures Trading Commission, large speculators have turned bearish on the US dollar. Speculators have mostly remained bearish on the dollar since July 2017, despite the improving US economic performance and rising interest rates.
This trend is more related to the relative strength of the US dollar, as other major central banks have surprised markets with their eagerness to tighten policy.
According to Reuters, the US dollar's (USDU) net short positions increased from ~-$9.6 billion to ~-$8.9 billion on Tuesday, January 16. This amount is a combination of the US dollar's contracts against the combined contracts of the euro (FXE), British pound (FXB), Japanese yen (FXY), Australian dollar (FXA), Canadian dollar (FXC), and the Swiss franc.
Outlook for the US dollar
For the US dollar, developments surrounding the US government shutdown are key. However, the tone of the central bank statements in Europe and Japan could also impact the demand for the US dollar.
If these central banks sound hawkish, knee-jerk reactions could push the US dollar to lower levels. There are not many economic data reports due, with the exception of first estimate of the 4Q17 GDP. Overall, it is likely to be a choppy week for the US dollar, and a bias for further depreciation is possible.
In the next part of this series, we'll analyze how the bond markets reacted to the US government shutdown.