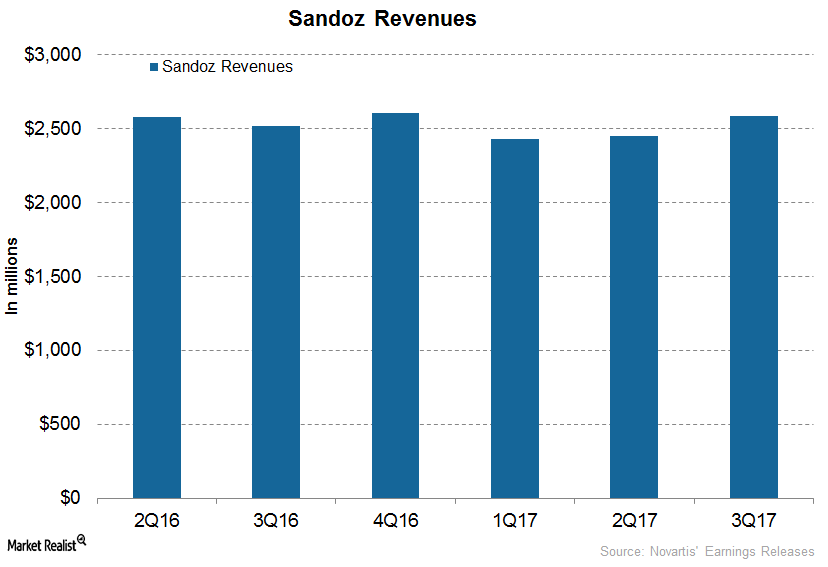 How Is Novartis's Subsidiary Sandoz Positioned for 2018?
Sandoz revenue trends
In 1Q17, 2Q17, and 3Q17, Novartis's (NVS) subsidiary Sandoz generated revenues of $2.4 billion, $2.5 billion, and $2.6 billion, respectively. In 3Q17, Sandoz witnessed 3% growth on a year-over-year (or YoY) basis and 5% growth on a quarter-over-quarter basis.
Article continues below advertisement
Recent developments
In January 2018, the U.S. Food and Drug Administration (or FDA) accepted Sandoz's biologics license application (or BLA) for proposed biosimilar adalimumab to the AbbVie's (ABBV) Humira.
Adalimumab is used to treat rheumatoid arthritis, plaque psoriasis, Crohn's disease, and ulcerative colitis. Around 200,000 individuals are newly diagnosed with rheumatoid arthritis in the US each year. Over 1.5 million are already affected by rheumatoid arthritis.
In January 2018, Sandoz entered a partnership with Biocon for the development, manufacturing, and commercialization of multiple biosimilars in immunology and oncology for patients globally. According to the agreement, Sandoz and Biocon share equal responsibility for end-to-end development, manufacturing, and global regulatory approval for commercialization worldwide. Sandoz and Biocon will share the cost and profit worldwide equally. Also as per the terms of the agreement, Sandoz will lead commercialization in the North American market and the European Union, while Biocon will lead the commercialization of the products in the rest of the world.
In December 2017, Sandoz presented data from the clinical trial that evaluated and demonstrated the pharmacokinetics, pharmacodynamics, safety, and immunogenicity of proposed biosimilar pegfilgrastim compared to Amgen's (AMGN) Neulasta.
Teva Pharmaceuticals (TEVA), Sandoz's peer in the biosimilars market, generated revenues of $5.6 billion, $5.7 billion, and $5.6 billion in 1Q17, 2Q17, and 3Q17, respectively.
The revenue growth of Novartis's subsidiary Sandoz could boost the PowerShares International Dividend Achievers Portfolio (PID). Novartis makes up about ~1.3% of PID's total portfolio holdings.