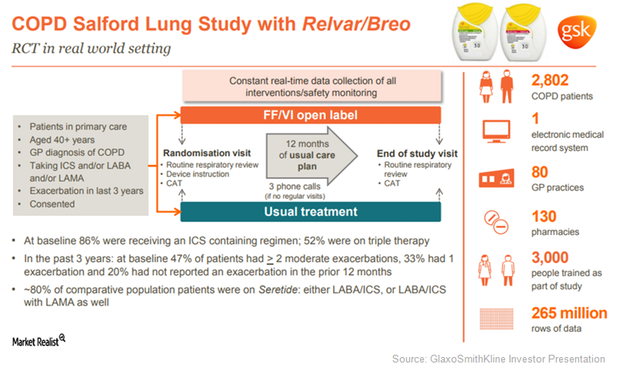 GlaxoSmithKline Is Focused on Maintaining Leadership in This Segment
COPD segment
To maintain its leadership in the chronic obstructive pulmonary disease (or COPD) segment, GlaxoSmithKline (GSK) has focused on shifting patients away from LAMA monotherapy to its LAMA/LABA bronchodilators, Anoro and Incruse. The company also expects to see COPD patients who are at higher risk of exacerbations to shift from open triple therapy to closed triple therapy such as the recently launched Trelegy Ellipta. GlaxoSmithKline accounts for around 0.88% of the Vanguard FTSE All-World ex-US ETF's (VEU) total portfolio holdings.
Article continues below advertisement
Article continues below advertisement
Relvar/Breo in COPD
The above diagram shows the design of Salford Lung Study, which compared the effectiveness of Revlar/Breo for COPD patients as compared to standard of care, which was either ICS/LABA therapy or triple therapy. The trial was designed to be nonselective and included patients with varying lifestyles and comorbidities. The study showed that there was an 8% drop in exacerbations in patients treated with Relvar/Breo as compared to those treated with standard of care. This implies that Relvar/Breo demonstrated significant improvement in the quality of life as compared to standard of care for COPD patients. Relvar/Breo is thus expected to enable GlaxoSmithKline to compete effectively with other COPD players such as Teva Pharmaceuticals (TEVA), Novartis (NVS), and Mylan (MYL).
Revlar/Breo revenue performance
Owing to strong demand trends in both asthma and COPD segments, Revlar/Breo Elipta earned revenues close to 710 million pounds in the first nine months of 2017, which is 72% year-over-year (or YoY) growth on a reported basis and 59% YoY growth on a constant exchange rate (or CER) basis. Revlar/Breo witnessed revenues close to 225 million pounds in 3Q17, which is a YoY rise of 44% on a reported basis and 43% on a CER basis. The true-up adjustments from sales concluded in previous quarters had a slightly negative impact on Breo's revenue numbers in 3Q17. However, the total prescriptions and new-to-brand prescriptions for this product have continued to demonstrate a YoY rise of 74% and 24%, respectively, in 3Q17.
In the next article, we'll discuss GlaxoSmithKline's Anoro Ellipta and Incruse Ellipta products in greater detail.