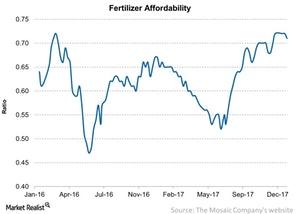 Fertilizer Affordability Remains Stable amid Strengthening Prices
Fertilizer affordability
Fertilizer affordability has seen some tightening in the last couple of months. The Fertilizer Affordability Index shows the current fertilizer affordability of three key NPK (nitrogen, phosphorous, and potassium) fertilizers to key fertilizer consuming crops like corn, wheat, and soybean. Earlier, we saw that the fertilizer prices for potash and phosphate have strengthened across the board year-over-year, while urea prices were slightly lower, which indicates how it may have impacted the fertilizer affordability. Let's see how fertilizer affordability moved last week.
Article continues below advertisement
The Fertilizer Affordability Index
The Fertilizer Affordability Index last week fell slightly to 0.71x from 0.72x a week ago. Last week, the downward move broke the three-week streak of sideways movement. The Fertilizer Affordability Index is indexed to one in the base year of 2005. A level below one means that fertilizers are affordable compared to the base year.
The current index level shows that the fertilizer affordability remains strong, which supports fertilizer producers (MOO) such as Nutrien (NTR), Mosaic (MOS), CF Industries (CF), and Terra Nitrogen (TNH).
However, in the above chart, we see that recently, the index briefly dipped and then rose higher in the following weeks, which may negatively impact fertilizer purchase decisions.
For updates on fertilizer players' earnings, visit Market Realist's Fertilizer page.