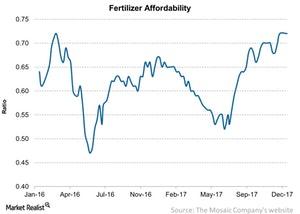 Are Rising Prices Affecting Fertilizer Affordability?
Fertilizer affordability
Recently, the Fertilizer Affordability Index has seen an upward trend. The Mosaic Company (MOS) publishes this index, and it shows the current fertilizer affordability of three key NPK (nitrogen, phosphorous, and potassium) fertilizers to key fertilizer consuming crops such as corn, wheat, and soybean.
Article continues below advertisement
Weekly movements
Last week, the Fertilizer Affordability Index moved sideways to 0.72 from our last update two weeks ago for the week ending December 15. According to Mosaic, the affordability index is indexed to one in the base year of 2005. A level below one means that fertilizers are fairly affordable compared to the base year.
The current affordability index is well below one. However, the affordability index has been rising and is up from 0.66 in the corresponding quarter a year ago in 2017, which indicates that while the fertilizer affordability remains below the base year, it is getting tighter compared to the prices of key crops such as corn, wheat, and soybean.
Tighter fertilizer affordability may prove negative for companies (MOO) such as CF Industries (CF), Mosaic (MOS), Terra Nitrogen (TNH), and Israel Chemicals (ICL) as farmers ration their budget.
The tighter affordability may have come from rising fertilizer prices, which we discussed earlier in this series. Make sure to check Market Realist's Agricultural Fertilizer page for the latest updates.