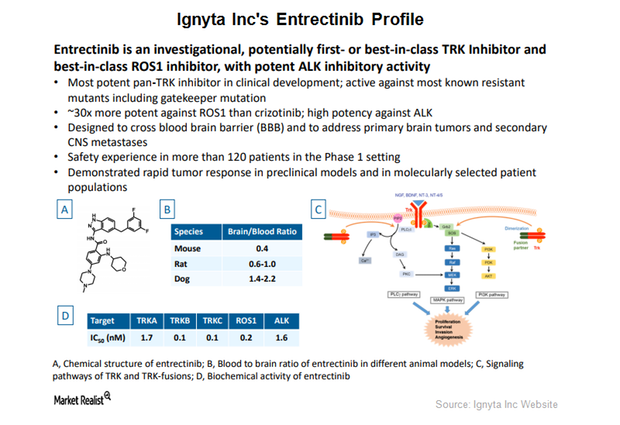 A Close Look at Ignyta's Licensing Agreement
By Kenneth Smith

Oct. 29 2019, Updated 10:53 p.m. ET
Licensing agreement with Nerviano Medical Sciences
Ignyta (RXDX) entered into a licensing agreement with Nerviano Medical Sciences (or NMS) in October 2013. The agreement granted Ignyta exclusive global rights to develop and commercialize entrectinib.
Entrectinib is a CNS (central nervous system) active, small molecule tyrosine kinase inhibitor of the tropomyosin receptor kinase family. The drug is currently in one Phase 2 clinical study and two Phase 1 studies, being evaluated in adult patients with solid tumors. It's in one Phase 1 study for pediatric patients with advanced solid tumors.
Article continues below advertisement
Under the license, Ignyta's development rights are exclusive for entrectinib for the term of the agreement. The license also grants exclusive rights to Ignyta for a term of five years with respect to any product candidate that NMS might develop that has activity against the target proteins of entrectinib. Ignyta also has the right to grant sublicenses for entrectinib.
Royalty and milestone payments for entrectinib
Ignyta is obligated to pay royalties to NMS upon commercializing entrectinib. They are tiered royalties that range from 10% to 15%, depending on sales achieved. The license also involves development and regulatory milestone payments to NMS from Ignyta up to $105 million. To this end, Ignyta has made payments to date to NMS of $17 million.
With milestone payments of $100 million, we need to take a deeper look at the company's cash levels. The cash per share ratio of Ignyta currently stands at 2.18x, while the ratios for peers Pfizer (PFE), Novartis (NVS), and Loxo Oncology (LOXO) are 2.83x, 4.04x, and 12.09x, respectively.
Ignyta makes up 0.08% of the iShares Russell 2000's (IWM) total portfolio holdings.
In the next part of the series, we'll take a look at the three other drugs in Ignyta's pipeline.