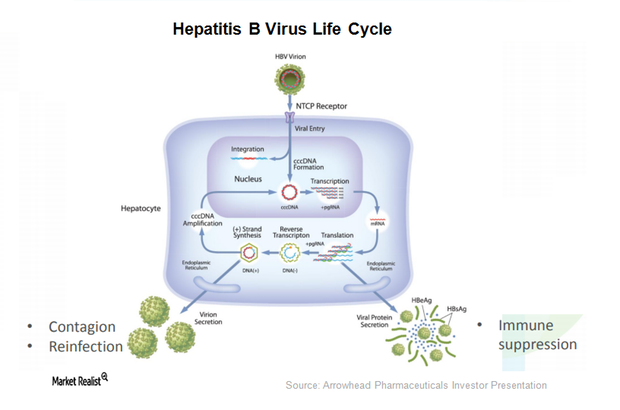 Arrowhead's Candidates for Hepatitis B, Cardiovascular Diseases
ARO-HBV
ARO-HBV is Arrowhead Pharmaceuticals' (ARWR) investigational drug candidate for treating chronic hepatitis B infection. It's a subcutaneously administered compound based on the company's previous ARC-520 and ARC-521 compounds. Arrowhead is aiming for a clinical trial application of the drug in 2Q18.
According to the World Health Organization (or WHO), globally, 240 million people are infected with the chronic hepatitis virus. Of this amount, 500,000 to 1 million people die every year from HBV-related liver disease.
At present, antiviral therapy is usually prescribed when liver enzymes become elevated due to HBV. Arrowhead is targeting a next-generation treatment with a finite treatment period that can be used at earlier stages of the disease.
Article continues below advertisement
ARO-APOC3 for hypertriglyceridemia
Arrowhead's investigational drug candidate ARO-APOC3 is being developed for reducing the production of apolipoprotein C-3, a component of triglyceride-rich lipoproteins and a key regulator of triglyceride metabolism.
Higher triglyceride levels are a risk factor for cardiovascular disease. In patients with familial chylomicronemia syndrome (FCS), which is a rare genetic disorder, this can result in acute pancreatitis, which can be fatal. The company is aiming for a clinical trial application of ARO-APOC3 in 4Q18.
ARO-ANG3
Arrowhead Pharmaceuticals' drug candidate ARO-ANG3 is under development for the treatment of hyperlipidemia and hypertriglyceridemia. The drug is designed to reduce the production of angiopoietin-like protein 3, which is a liver-synthesized inhibitor of lipoprotein lipase and endothelial lipase. Arrowhead is aiming for a clinical trial application of the drug in 4Q18.
Arrowhead's return on equity is -38%, while those of its peers Gilead Sciences (GILD), Ignyta (RXDX), and Loxo Oncology (LOXO) are currently 53%, -140%, and -50%, respectively.
Arrowhead Pharmaceuticals makes up ~0.10% of the iShares Micro-Cap ETF's (IWC) total portfolio holdings.
In the next part of the series, we'll explore the reasons behind the company's sudden surge in revenue in 2017.