Eurozone Manufacturing Activity Reaches a High in December 2017
Eurozone manufacturing activity in December According to Markit Economics, the Eurozone's manufacturing PMI (purchasing managers' index) rose strongly in December 2017, to 60.6 from 60.1 in November 2017. It beat the market expectation of 60.4 and marked the strongest expansion in manufacturing activity since 1997. Major Eurozone members Germany (EWG) (DAX-INDEX), France (EWQ), Spain (EWP), and Italy […]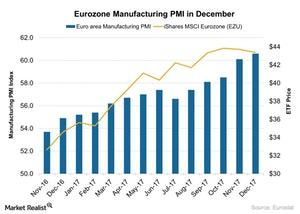 Eurozone manufacturing activity in December
According to Markit Economics, the Eurozone's manufacturing PMI (purchasing managers' index) rose strongly in December 2017, to 60.6 from 60.1 in November 2017. It beat the market expectation of 60.4 and marked the strongest expansion in manufacturing activity since 1997.
Major Eurozone members Germany (EWG) (DAX-INDEX), France (EWQ), Spain (EWP), and Italy posted a strong rise in manufacturing activity in December 2017. Germany's manufacturing PMI reached a multidecade high of 63.3 in December 2017. The Eurozone's manufacturing PMI's strong performance in December was mainly due to the following:
production volume and output rose at a faster rate
new business and export orders grew at a solid rate
employment in the manufacturing sector rose at a faster rate
Article continues below advertisement
Article continues below advertisement
Impact on the economy
The Eurozone's gradual and strong rise in manufacturing and service activity suggest that its economy is strengthening, which may be boosting investors' confidence in European businesses. The iShares MSCI Eurozone ETF (EZU), which tracks the Eurozone's (HEDJ) (FEZ) (IEV) economic performance, fell 0.3% in December 2017. However, the Vanguard FTSE Europe ETF (VGK) rose 1%. In the next part of this series, we'll look at Japan's manufacturing PMI in December 2017.