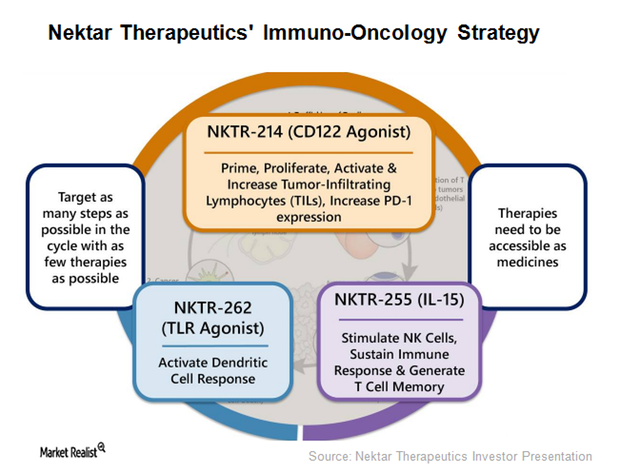 A Deeper Look at Nektar Therapeutics' Licensing Agreements
License and collaboration agreements
Nektar Therapeutics (NKTR) has entered into a number of licensing and collaboration agreements for research, development, and commercialization with various healthcare companies, including Eli Lilly (LLY), AstraZeneca (AZN), and Amgen (AMGN). Under these agreements, Nektar is entitled to receive license fees, milestone payments, royalties, and payments for manufacturing and supplying Nektar's proprietary PEGylation materials. At the end of 3Q17, Nektar's potential future payments for development milestones totaled ~$397 million.
Article continues below advertisement
Agreement with Eli Lilly
In August 2017, Nektar entered a worldwide license agreement with Eli Lilly (LLY) for co-developing NKTR-358, a novel immunological drug candidate invented by Nektar.
Under the terms of the agreement, Nektar received an initial consideration of $150 million in September 2017 and is eligible for up to $250 million in additional development and regulatory milestones. Nektar is responsible for Phase 1 development, and for Phase 2, it will bear 25% of costs.
Furthermore, Nektar has the option to contribute to Phase 3 development on an indication-by-indication basis. The company will have the opportunity to receive double-digit royalties, depending on its development contribution in Phase 3 and global product sales. Eli Lilly will be responsible for global commercialization costs and Nektar can co-promote the product in the United States at its choosing. These potential milestone payments could be 50% lower depending on the final formulation of the approved product and prior approvals of competitive products with a similar mechanism of action.
Nektar Therapeutics makes up ~1% of the Vanguard Small-Cap ETF (VB). In the next part of this series, we'll take a look Nektar's agreements with AstraZeneca, Amgen, and Bayer.