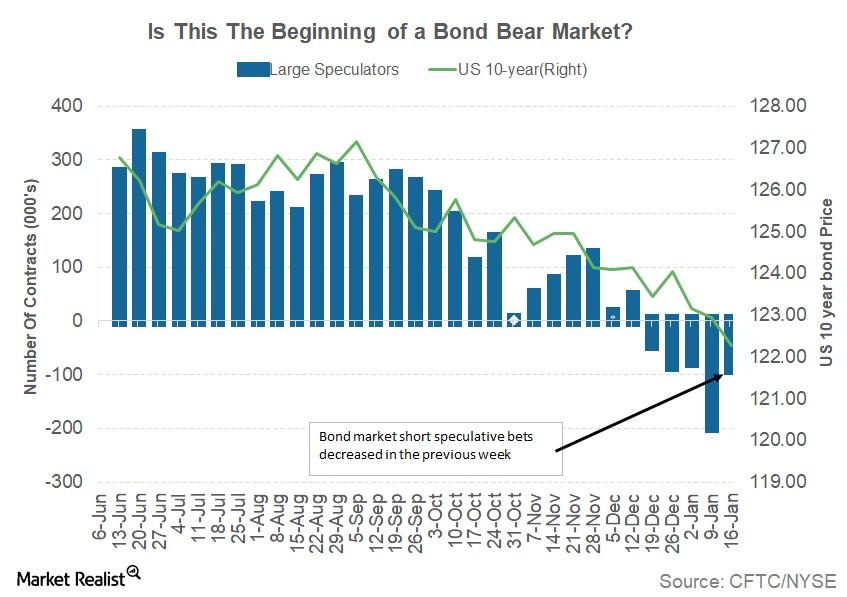 Are Bond Yields Set to Move Higher this Week?
US bond markets reel under pressure
The US bond (BND) markets remained under pressure and closed lower for the week ended January 19. At the beginning of the week, a news article about China planning to cut down its purchases of US Treasuries triggered an initial sell-off. The negative news continued with the increased possibility of a US government shutdown.
The US Treasury is not able to issue any more debt until the debt ceiling is raised, which could increase the volatility in the bond markets.
Article continues below advertisement
Bond market performance and speculator positions
For the week ended January 19, the ten-year yield (IEF) rose 11 basis points to 2.66%, a level not seen in more than three years. The two-year yield (SHY) closed at 2.07% (up by four basis points), and the 30-year yield (TLT) closed at 2.93% (up by eight basis points) for the week ended January 19.
The latest Commitment of Traders (or COT) report was released on January 19 by the Chicago Futures Trading Commission (or CFTC). According to the COT report, speculators decreased their short positions on the ten-year bond, and the net short positions decreased from 196,853 contracts to 89,259 contracts.
The possibility of a higher deficit due to the tax cuts and reduced demand could result in bond yields moving higher. This trend could mean continued pressure for the US bond (AGG) market.
The week ahead for the bond markets
The ongoing negotiations between both political parties are expected to take center stage, and a quick resolution could help cool the surging bond yields.
On the economic data front, existing home sales, durable goods orders, and the preliminary 4Q17 GDP estimates are due to be published this week. These reports are unlikely to have a major impact on the bond market. Overall, bond market investors may need to brace for further losses if the political logjam continues.
In the next part of this series, we'll analyze how the European Central Bank could influence the euro this week.