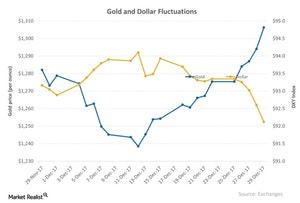 Analyzing Precious Metals: Dollar Had Its Worst Year since 2003
Dollar fell
Although most of the upswing in precious metals has been due to the rise in geopolitical risks in the past year, the US dollar has been the most crucial factor impacting these metals. The US dollar had its worst year since 2003. The US dollar, which is depicted by the DXY Currency Index or DXY (UUP), has seen a YTD fall of 9.9%.
Precious metals are all dollar-denominated assets and their prices react negatively to the increase in their pricing currency. The higher the dollar, the more expensive it gets for buyers from other countries to invest in dollar-based assets. Similarly, a fall in the dollar causes more investors to hoard dollar-denominated assets.
Article continues below advertisement
Inverse relationship
The above chart shows the inverse relationship between gold and the US dollar in the past month. The DXY Index has fallen 1.3% in the past five trading days. During the same period, gold, silver, platinum, and palladium rose 2.4%, 4.3%, 1.3%, and 2.8%, respectively.
The trading volumes in precious metals stayed muted due to ongoing new year holidays and most people being away from their desks.
Among the precious metal funds that also increased due to the fall in the US dollar are the SPDR Gold Shares (GLD) and the VanEck Merk Gold Trust (OUNZ). They rose 0.65% and 0.76%, respectively, on December 29.
The mining shares that were the top winners on Friday included Aurico Gold (AUQ), B2Gold (BTG), Harmony Gold (HMY), and Randgold Resources (GOLD). They rose 3.6%, 3%, 1.1%, and 1.4%, respectively.