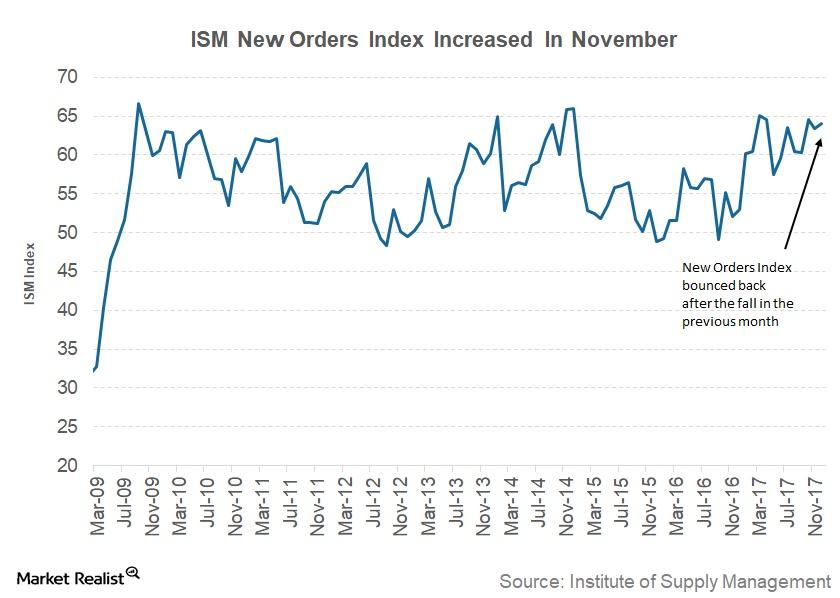 Analyzing the Institute of Supply Management's New Orders Index
The Institute of Supply Management's New Orders Index
The ISM's (Institute of Supply Management) New Orders Index is a monthly report on changes in new orders, supplier deliveries, inventories, production, and employment. New orders are a measure of future activity in any industry (VIS), as companies' production depends on incoming orders. The ISM's New Orders Index has an overall weight of 15.9% in the Conference Board LEI (Leading Economic Index).
Data from 400 different US industries (XLI) is collected to construct the New Orders Index, a diffusion index with extremes of 0 and 100. The survey is binary, meaning that it has only two options, either positive or negative. If positive responses outnumber negative responses, the industry is considered to be expanding.
Article continues below advertisement
Recent data release
November's ISM New Orders Index stood at 64.0, compared with 63.4 in October. The index has bounced back towards the six-month peak of 64.6 it reached in September after a minor drop in October, proving that the industry remains confident. The index had a net positive effect of 0.17 (or 17%) on the LEI in November. An increase in new orders means companies expect business condition improvement, which is positive for the US economy.
The New Orders Index's impact on markets
The New Orders Index is reported in the first week of each month, and a positive reading encourages optimism in market (SPY) participants. Markets (ITOT) react negatively if the index reading falls close to 50, which has happened twice in the last two years. The recently passed tax reform bill aims to bring additional incentives in the form of tax cuts, and is likely to improve industry (FXR) expectations in 2018. In the next part of this series, we'll discuss the continuous fall in new orders for non-defense and capital goods.