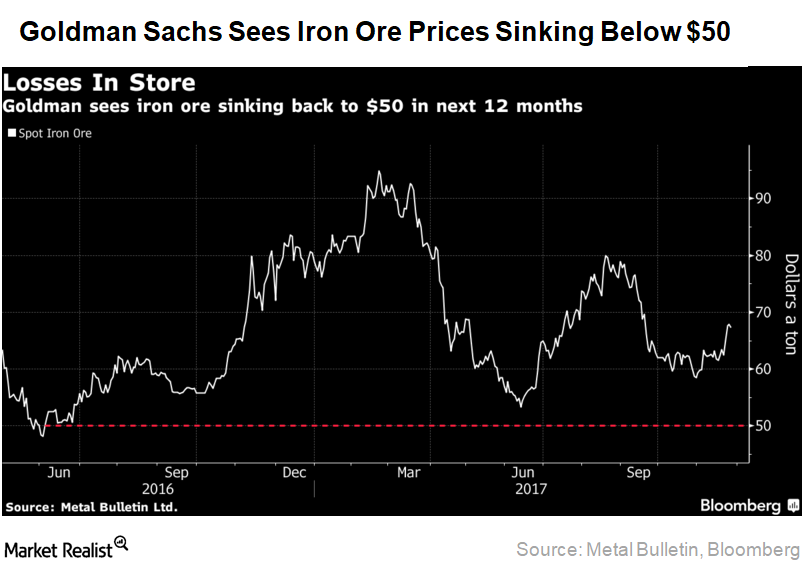 What Are Analysts Predicting for Iron Ore Prices in 2018?
Goldman Sachs: Prices to sink below $50
Goldman Sachs (GS) believes that iron ore prices should sink back to $50 per ton in 2018. The firm feels the supply increase due to the ramp-up of Vale's (VALE) S11D mine would increase the plentiful supply and, at the same time, China's demand should decline.
Goldman Sachs analyst Hui Shan said that prices should decline to $60 per ton in three months, $55 per ton in six months, and $50 per ton in 12 months.
Article continues below advertisement
Article continues below advertisement
HSBC: Not at bottom yet
HSBC also believes that the recent stabilization is not a sign that a bottom has been reached. In a note in October 2017, HSBC's metals and mining team noted that weaker demand dynamics should push the market into a surplus of ~40 million tons in 4Q17. It sees prices falling below $60 per ton over the first half of next year.
Credit Suisse: Upgraded price forecasts
Credit Suisse (CS), on the other hand, upgraded its iron ore price forecasts for 2018, 2019, and 2020. CS analyst Matthew Hope upgraded prices on a more positive outlook for China and ex-China steel output.
The major reasons for upgrading the iron ore price (PICK) outlook are as follows:
greater profitability of Chinese steel mills
more conservative supply forecasts from four major iron ore producers—Vale (VALE), BHP (BHP), Rio Tinto (RIO), and Fortescue Metals Group (FSUGY).
CS's view that supply would drop rapidly if prices drop below $50 per ton
China's demand to be supported by infrastructure investment growth of ~20% per year