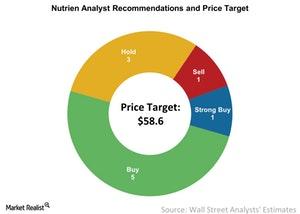 Which Analysts Are Bullish on Nutrien in January 2018?
Nutrien
At the end of 2017, after receiving final regulatory approval for the merger, PotashCorp and Agrium combined into a new company called Nutrien (NTR). It began trading under a new ticker, NTR, on January 2, 2018, on the NYSE (New York Stock Exchange) and the TSX (Toronto Stock Exchange).
Article continues below advertisement
Analyst ratings
Ten Wall Street analysts are covering Nutrien. They have a consensus mean rating of 2.4 on the stock with an overall "buy" recommendation as of January 10, 2018.
Of those ten analysts, only one has a "strong buy" recommendation for the company for the next 12-month period, and five have a "buy" recommendation. Three analysts have a "hold" recommendation, and only one is recommending a "sell." None of the analysts have given it a "strong sell" recommendation.
With the completion of the merger, Nutrien is one of the largest agricultural fertilizer companies (MOO) along with Mosaic (MOS), CF Industries (CF), and Israel Chemicals (ICL).
Price targets
As of January 10, 2018, the current consensus median price target for Nutrien is $60, which would leave an upside of 16%.
TD Securities and Stifel Nicolaus are the most bullish on Nutrien, with price targets of $65 and $64, respectively. The Bank of America is the least bullish with a price target of $50. The Royal Bank of Canada, Cowen, and Raymond James Financial each have a $60 price target on the stock.
Next, let's take a look at the ratings and price targets for Mosaic.