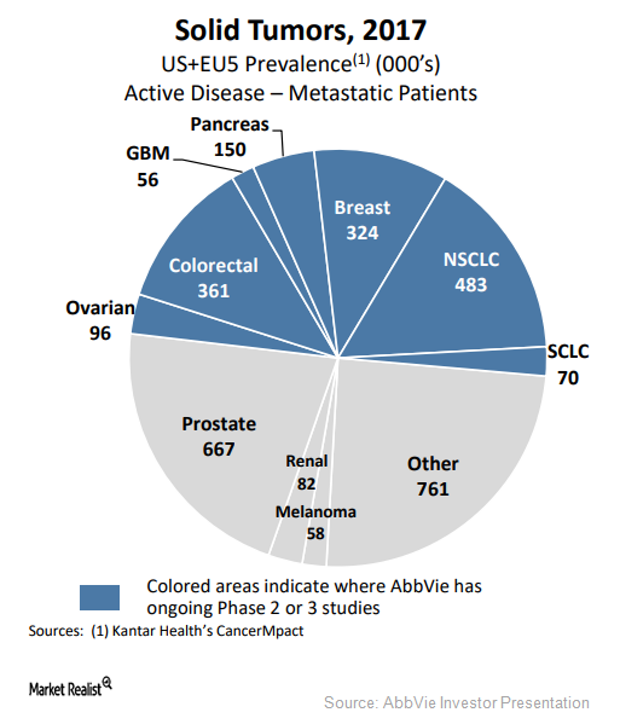 AbbVie Rapidly Advancing Its 2018 Solid Tumor Portfolio
Solid tumor portfolio
The above diagram shows the prevalence of patients suffering with various types of metastatic solid tumors in the United States and in EU5[1. EU5 is made up of the following European Union countries: France, Germany, Italy, Spain, and the United Kingdom.] in 2017, as well as those tumor types targeted by AbbVie.
Article continues below advertisement
Solid tumor market potential
According to EvaluatePharma reports, the worldwide solid tumor market was worth $54 billion in 2017 and is expected to reach a market value of $104 billion by 2025. To capitalize on this opportunity, AbbVie is focused on developing best-in-class as well as first-in-class solid tumor therapies. The company is developing next-generation immuno-oncology agents and aims to provide personalized medicine solutions through biomarker-based therapies. AbbVie thus aims to advance its solid tumor pipeline through the Stemcentrx platform as well as an early-stage antibody drug conjugate (or ADC), bispecific antibodies, targeted small molecule kinases, TCR[2. T-cell receptor]-based therapeutics, oncolytic viruses, and trispecifics programs.
AbbVie currently has more than 23 clinical development programs in the solid tumor segment and expects more than ten novel assets to enter clinical trials by the end of 2018. The robust pipeline is expected to enable AbbVie to compete effectively with other solid tumor players such as Bristol-Myers Squibb (BMY), Pfizer (PFE), and Merck & Co. (MRK) in the coming years.
Stemcentrx discovery platform
AbbVie is deploying the Stemcentrx discovery platform to develop innovative proteins to target tumor-initiating cells. The company is also identifying novel targets to treat solid tumors through the study of the extensive proprietary library comprised of patient-derived tumor xenograft (or PDX) models. The acquisition of Stemcentrx has added eight promising investigational assets, including lead asset Rova-T, to AbbVie's pipeline. Starting in 2018, AbbVie expects close to three IND (Investigational New Drug) applications every year arising from the acquired Stemcentrx pipeline.
In the next part, we'll look at the growth prospects for Rova-T (rovalpituzumab tesirine), its investigational asset.