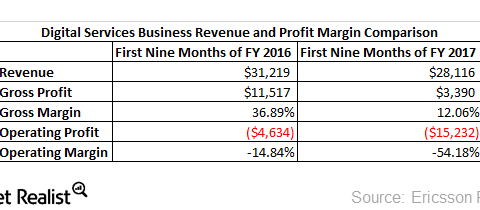 A Look at Ericsson's Digital Services Business in Fiscal 2017
By Adam Rogers

Updated
Digital Services segment
According to Ericsson (ERIC), its Digital Services segments have several "Products and services providing solutions for our customers' digital transformation journeys across the support systems BSS and OSS, Telecom Core, and IT Cloud domains through a combination of products, technology and expertise in networks, software, cloud, and business processes."
In the first nine months of fiscal 2017, Ericsson's Digital Services business generated revenues of ~28.1 billion SEK (Swedish kronor), which is equivalent to $3.3 billion. This business generated revenues of ~31.2 billion SEK (or $3.7 billion), indicating a YoY (year-over-year) fall of 10.8%.
Article continues below advertisement
Profit margins
Ericsson's gross margin fell from 37.0% in 9M16 to 12.0% in 9M17. Its operating margin fell significantly from -15.0% to -54.0% during the same period.
Operating profit goals
Ericsson aims to generate revenues of 42.0 billion–44.0 billion SEK from its Digital Services segment by 2020 with an operating margin in the low single digits. Ericsson would provide solutions to improve digital engagement and automate operations for its enterprise customers. 
Ericsson also plans to lead transformation for service providers such as T-Mobile (TMUS) in the United States (SPY), Zain KSA in Africa, VNPT in Vietnam, and Entel and Nextel in South America. These providers aim to transform and digitalize their customer engagements.
According to Ericsson, Vodafone (VOD), Telstra, Telefonica, and NTT DoCoMo are already virtualizing core networks to automate their operations. Ericsson plans to focus on improving profit margins by identifying contracts that are not aligned with its long-term goals and by increasing offshore projects.