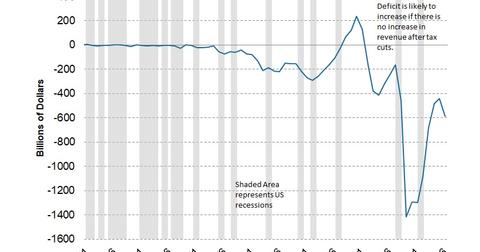 How Will Tax Cuts Impact the Federal Deficit?
By Ricky Cove

Dec. 6 2017, Updated 3:20 p.m. ET
Expected impact on the deficit
The US Senate passed its own version of the US Tax Cut and Jobs Act on December 2. It moved the process of tax reform a step closer to reality. The possibility of tax reform is in sight, but it's hard to predict how the reform will impact the economy. In this part, we'll discuss how tax cuts could impact the US deficit. According to a recent report from the Joint Committee on Taxation, the proposed bill, in its current form, could add up to $1 trillion in debt to the US economy.
Article continues below advertisement
Budgetary impact
The report from the Joint Committee on Taxation included an estimate of budgetary deficits for 2018–2027. Tax reforms could have a limited impact in 2018 with an increase in the deficit by $28.5 billion. In the longer run, the total estimated deficit could be considerable. For 2018–2022, the deficit is expected to be near $750 billion. For 2018–2027, the total deficit is expected to be $1 trillion.
The report also included expectations for deficits for the second and third decade after tax reform implementation. Due to the positive impact of improved economic output, increased wages, and higher inflation (TIP), the federal deficit's growth could be negligible after the first decade.
How markets could react
Currently, the US debt stands close to $14 trillion. With the expected increase in the debt, there could be some impact on bond markets. Investors in the bond (BND) markets could be concerned about higher debt levels and demand a higher rate of return on their investment. It could lead to higher yields (HYG) and increase the borrowing cost for businesses (JNK). It could negate the positive impact of tax cuts. It's hard to see that far ahead. We would have to wait and see how the economy reacts to the tax cuts.
In the next part of this series, we'll analyze the bond market's (AGG) reaction to recent tax reform developments.