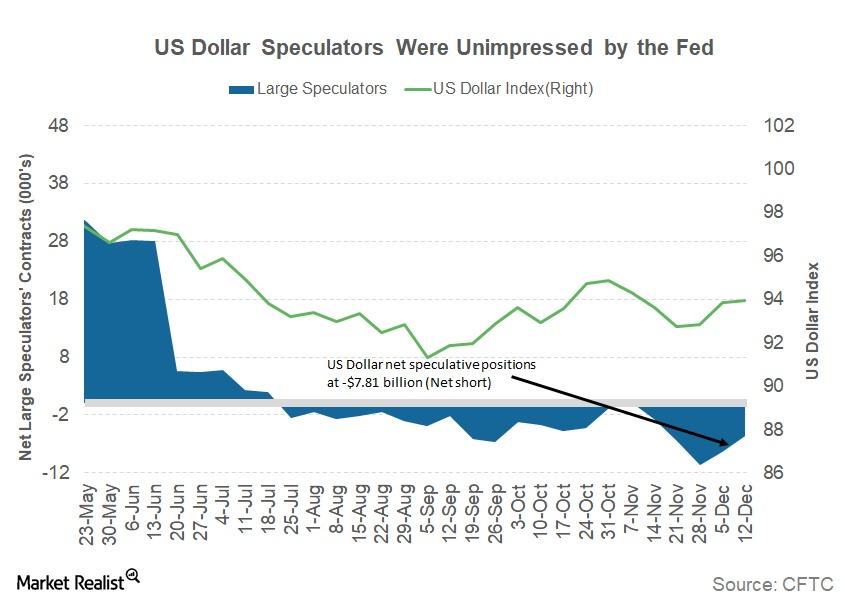 Why the US Dollar Resisted the Fed's Latest Rate Hike
US dollar closed unchanged last week
The US Dollar Index (UUP) failed to rally on the improved economic projections from the Federal Reserve's rate hike of 0.25%. The primary reason for the US Dollar Index to remain positive was the news about progress on the tax reform bill.
The FOMC statement indicated ongoing subdued levels of inflation, which could reduce the chances for future rate hikes. For the week ended December 15, the US Dollar Index rose 0.06% and closed at 93.93 compared to 93.87 in the previous week.
Article continues below advertisement
Article continues below advertisement
Speculators added bullish bets on the US dollar
According to the December 15 Commitment of Traders report, which was released by the Chicago Futures Trading Commission, large speculators turned bearish on the US dollar through December 12. If the tax reform bill is passed before the end of the year, the US dollar could receive a boost.
The US Dollar Index has depreciated against major currencies in 2017 despite an upbeat US economic performance. The relative performance of other developed economies has pressured the US dollar.
According to Reuters, the US dollar (USDU) net short positions increased to ~-$7.8 billion during the week ended December 15, 2017, compared to ~-$4.3 billion in the previous week. This figure is the combination of the US dollar's contracts against the combined contracts of the euro (FXE), British pound (FXB), Japanese yen (FXY), Australian dollar (FXA), Canadian dollar (FXC), and Swiss franc.
Outlook for the US dollar
There are no major economic events this week for the US dollar. Housing reports, revisions to the GDP estimates, and PCE inflation figures are key reports that will be released after this week. However, the focus is on the tax reform bill. If this legislation passes the House and the Senate for President Trump's signature, we can look for some gains in the US dollar index.
In the next part of this series, we'll discuss how bond market investors reacted to the US rate hike and the FOMC statement.