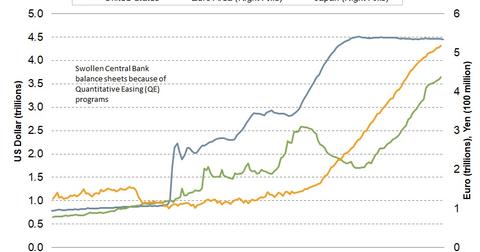 When the United States Sneezes, Will the World Catch a Cold?
By Ricky Cove

Dec. 4 2017, Updated 7:34 a.m. ET
Contagion in global economies
In his speech at the 2017 Asia Economic Conference, John Williams, president and CEO of the Federal Reserve Bank of San Francisco, explained the perils of a globalized economy and offered some solutions to the problem of contagion. He highlighted the scenario in which problems in one economy tend to impact other economies. For instance, a negative growth report from China (XPP) impacts sentiments of investors across the markets (SPY). One reason Williams pointed out this contagion is because of the lower level of interest rates in many economies, which is limiting the tools available to central banks.
Article continues below advertisement
He suggested that the monetary policy framework should be designed considering the global scenario rather than central banks looking at their economies in isolation. If each country starts changing monetary policies in isolation, the desired results might not be achieved since not all countries would be able to depreciate their currencies to improve their competitive advantage.
List of suggestions from Williams
Williams was clear that central banks and federal governments might not come together to achieve a common goal. He said that with lower levels of normal interest (BND) rates, we need to be prepared with additional tools. Below is the list of options laid out by Williams:
Continue to rely on unconventional policy tools such as QE (quantitative easing) programs.
Increase lower bound interest (AGG) rates to negative rates, like Japan, which will give further room to tackle future recessions.
Increase the inflation (TIP) target from the 2% level.
Modify the monetary policy from inflation targeting to price or income level targeting.
Conclusion
In the conclusion of Williams' speech, he said that discussions on tackling future recessions need to take place. For the time being, he said it's prudent to use this period of recovery to relook the monetary policy framework and make our economies more resilient. The world, at this point, he said, could catch a cold if the United States sneezes.
Here's his closing statement: "No one's yet come up with a cure for the common cold, but we do know that good hand-washing, vitamin C, and rest can reduce symptoms and prevent it from spreading. Now is the time to stock up on tissues and make sure we're as well prepared as we can be for the next recession."