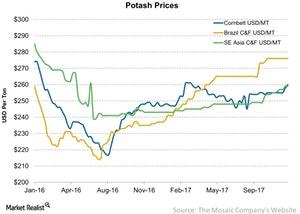 Tracking Potash Price Movements Last Week
By Adam Jones

Dec. 12 2017, Updated 10:31 a.m. ET
Potash prices
Last week, which ended December 8, 2017, overall potash prices were broadly flat to positive at the four locations we're covering in this series. Let's see how these locations have performed year-over-year.
Article continues below advertisement
Weekly movements
Granular potash prices in the Cornbelt region of the United States (MOO), which sees high agricultural activity, rose 78 basis points week-over-week to $236 per metric ton, from $234 per metric ton. At NOLA (New Orleans), prices for granular-grade potash were broadly flat week-over-week at $204 per metric ton.
Looking at the prices for standard-grade potash in Southeast Asia, we see a sideways movement to $259 per metric ton week-over-week as of December 8, 2017.
Producers PotashCorp (POT), Mosaic (MOS), Intrepid Potash (IPI), and Agrium (AGU) have maintained a positive outlook for potash fertilizer, given the handful of players that have reacted to balance the supply in the market.
Yearly movements
Year-over-year, potash prices at our locations have remained strong. For example, in Brazil, prices rose 17% year-over-year last week, followed by NOLA, which saw an 8% rise year-over-year. In the Cornbelt region, granular urea prices were 5% higher year-over-year.
As for standard-grade potash in Southeast Asia, prices rose 7% year-over-year last week.
In the next and final part of our series, we'll look at fertilizer affordability movements last week.