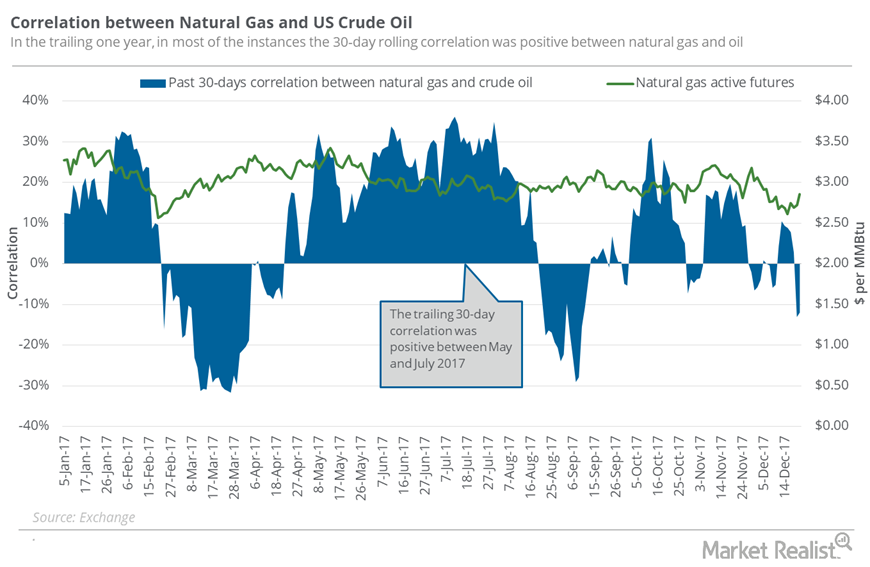 Is Natural Gas Moving with Oil Prices?
Past five trading sessions
Article continues below advertisement
Small rise in energy commodities
Oil prices were steady in the trailing week. However, we could see some volatility in oil prices after the EIA oil inventory report on December 19, 2017.
For natural gas prices, the EIA natural gas inventory data scheduled for December 21, 2017, should be a dominating factor. We discussed this topic in Part 3 of this series.
30-day rolling correlation
On December 19, the trailing 30-day correlation between natural gas and US crude oil prices was -13.0%. In the past 30 trading sessions, natural gas active futures fell 14.6%, but US crude oil futures rose 0.5% over this period.
Between May and July 2017, this correlation was often above 30.0%. So, there could be a direct relationship between the two energy commodities over longer timeframes. Natural gas may follow oil's movements, like the energy sector in general. However, individual factors also dominate individually over the two energy commodities.
Please visit Market Realist's Energy and Power page for ongoing insights into the energy sector.